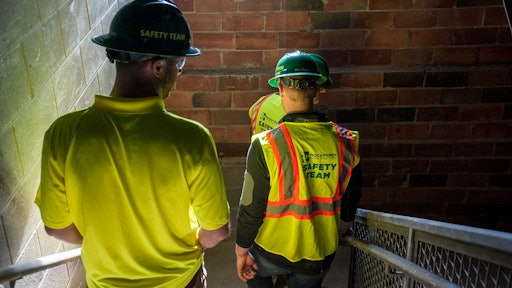 Rockford Construction
No stranger to working outdoors during winter months, Michigan-based Rockford Construction integrates cold weather safety precautions into all levels of the organization, from project pre-planning to its daily employee "toolbox" meetings.
Like any northern state, winter weather in Michigan can see dramatic lows, along with plenty of snow and ice. Rockford Construction prepares for snow, ice and winds that can slow projects, affect equipment and vehicles and jeopardize the safety of workers.
"As a construction management firm, we're in a high-hazard industry," says Paul Rozich, Rockford's director of safety and risk management.
With so many risks on the site, safety is the top priority. In the construction industry, the typical injury rate, or the average OSHA (Occupational Safety and Health Administration) recordable incident rate is 3.0; the lower the number, the fewer the incidents. At Rockford, it's 1.9.
"We consider the health and safety of our clients, employees, trade contractors and the general public to be of the utmost importance and an integral part of our operation on each and every project," he says. "That includes proper planning for winter conditions and winter safety for those working on our projects and how it impacts others affected by our work throughout the communities we work in."
How do they make it work and keep projects on time? A culture of safety, he says.
"I believe having a common goal is important and getting employees home safe at the end of the day is our common goal," Rozich says.
Making a Plan for Cold Weather Work
With offices in Grand Rapids and Detroit, as well as Estero, FL, Rockford Construction works on a variety of projects, from new construction to renovations.
"It can be lots of things, it can be new construction, a ground-up scenario, remodeling an existing building," Rozich says. "There are a number of times when we are working outside in winter conditions."
Conversations about safety begin at the very first planning stage of each project.
"I would consider Rockford very proactive as it relates to winter safety and planning for winter conditions," he says. "We start the planning process several months before winter conditions affect our projects. As a team, we identify which projects could be most impacted and the project team puts together a plan that focuses on winter conditions, specifically walking working surfaces, snow removal, temporary protection, temporary heat and other safety-related items."
One of the first steps they take in winter weather planning is reviewing potential risks at the work site.
"As a team, we put together a plan to manage winter conditions and there are a lot of items that go into that, including snow removal, walking working surfaces, ice, heat, temporary heat, break areas, access, egress," he says. "There are a lot of considerations that take place when working in winter conditions and a lot of planning to prepare for that."
Balancing Safety with Meeting Deadlines
General contractors balance worker and site safety against finishing projects on time. At Rockford, they find ways to adapt to weather delays to maintain those two goals.
"There are ways to make up time within a project schedule, but to jeopardize the safety of workers to meet the schedule within unsafe conditions is unacceptable," Rozich says. "We have procedures in place to identify when and if a project finish time might be impacted due to cold weather conditions or other unforeseen conditions. That allows us to manage at a high level where we can look at opportunities to keep the schedule maintained. However, we would never jeopardize the safety and well-being of our employees."
Work might move indoors, or the project might be suspended for the day if weather conditions are too extreme. Portions of a project, such as tasks on elevated surfaces such as scaffolding, might stop for the day.
"It depends on the wind speeds for the day and things like that," he says. "We look at the specific tasks that need to be done. We may not have to shut down the entire project for the day, just the projects that are outside. If conditions are extreme, we might shut down that particular site."
Cold Weather Monitoring in Action
Keeping sites safe comes down to the daily inspection. Once the weather forecast has been reviewed for the day, supervisors and workers inspect the site for snow and ice, wind debris, icicles and other roof hazards and the safety of walking surfaces. Doing so is one of the most effective ways to prevent cold-weather work injuries, according to OSHA and other safety organizations.
"Fortunately, we haven't experienced many injuries, really, due to cold weather," Rozich says. "We monitor our sites, including certain work that we perform on a daily basis. We monitor the temperature in the break areas, what's the wind chill going to be on that day and snow and ice accumulation as it relates to our site."
Equipment and vehicles also need to be inspected at the start of each shift.
"It is important that each worker, before they start a task, regardless of that task, inspect their work area and the equipment that they will be using to make sure that it's safe," he says. "If it's not, then this needs to be reported to a supervisor immediately. This is a general statement, but it applies to everything we do and the conditions we do them in and the particular piece of equipment we will be using."
Cold weather can damage equipment and other machinery as well. Rozich recommends following consistent protocols when it comes to inspection, starting equipment and checking fluid levels and pressure.
"If possible, it is recommended to store equipment in enclosed areas with heat," he says. "It's important when pre-planning to identify what options are available for equipment storage on the project during the winter months. It's also critical to understand what equipment will be on the project and at what time."
Rockford works closely with subcontractors to determine their on-site equipment needs before a project begins.
"That information must be reviewed with the affected trade contractors and try to identify their needs and in many cases, they're very different," he says. "In many cases, temporary enclosures are built, and a heat source added to defend against the cold temperatures that can damage equipment. It's a case-by-case scenario and we try to plan for that ahead of time and avoid problems during the winter months."
Cold Weather Training
At Rockford, crews receive OSHA and NIOSH training to stay warm and avoid cold stress on work sites. Overexposure to cold temperatures can lead to a number of illnesses and injuries, from trench foot to hypothermia. According to the Centers for Disease Control and Prevention (CDC), the first signs of hypothermia include shivering, fatigue, loss of coordination, confusion and disorientation.
"We haven't experienced the cold stress injuries, frostbite or hypothermia, we have experienced an occasional fall on our projects but as far as cold-related stress injuries, we have not, which is very positive," Rozich says.
Monitoring work sites daily and being proactive when planning for cold weather conditions are essential to prevent injuries and illnesses, he says.
"Basically, as general contractors, it's part of our job to provide a safe work environment," he says. "We do train our employees and have plans in place for adverse and cold weather. The key here is that communication about cold weather safety is critical. We do use the OSHA and the NIOSH information to communicate our winter safety guidelines to our employees and trade contractors. We talk about that regularly in our toolbox safety meetings. We also personalize information for those sites related to avoiding cold stress, winter safety protocols as a means to increase awareness and keep it in the forethought there."
PPE Tips from the Frozen Tundra
Rozich recommends mixing high-visibility features with cold-weather gear to get the biggest bang for your PPE (personal protective equipment) buck.
"Fortunately, there is a huge selection of cold weather gear out there for construction workers, including gear that is high viz (visibility)," he says. "At Rockford, we provide our employees with several types of high-viz attire for cold weather conditions."
Here are more of Rozich's tips:
Layer clothing
Wear a mask over your face
Use a hat that will fit under your hard hat and cover the ears
Wear insulated, water-resistant clothes
Use an insulated parka over the work clothes
Moreover, Rozich says that to keep workers safe, companies need to commit to their rules and protocols.
"The safety of our employees and contractors is kept at the forefront and eliminates the chance of complacency on the project," he says. "It's something that's kept on the forefront on a daily basis and we try not to back down from that."
Planning, communication and a commitment to safety, he says, are key to a healthy winter construction season.
READ MORE: