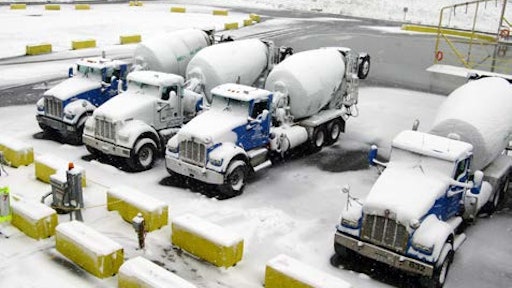 National Ready Mixed Concrete Association
Slips, trips and falls account for the majority of all workplace accidents. During the winter months, these types of accidents are even more prevalent due to more muddy, wet and icy walking and working surfaces, according to a recent safety bulletin from the National Ready Mixed Concrete Association (NRMCA).
There are four main factors that contribute to slips, trips and falls in the construction industry, according to the American Society of Safety Engineers (ASSE). They include:
Workers
Machines/equipment
Work environments
Management
"Workers may be prone to slip, trip and fall hazards by not properly using equipment, fatigue, risk-taking behavior and/or inadequate training," ASSE notes in the article, Slips, Trips & Falls in Construction & Mining: Causes & Controls.
The article goes on to explain that machine factors that contribute to slip, trip and fall hazards include improperly designed machines, missing components or machines that are not maintained properly.
Environmental factors mentioned in the article include wintery conditions such as snow, ice, wind, as well as factors such as poor lighting.
Prevention Starts with a Plan
And while these accidents are common, they are also easy to prevent.  
The ASSE article points to management action as a key to prevention as they can control worker, machine and environmental factors through proper planning, monitoring and corrective action.
NRMCA adds that  "to reduce and ultimately eliminate slips, trips and falls—and the injuries and costs associated with them—especially in the winter months, ready mixed concrete producers should take just a few minutes to assess their operations and any liabilities."  
This assessment NRMCA says begins with a regular review by employees of all procedures for walking, working surfaces and fall protection. Reviews should include regular inspections followed by any necessary fixes, changes or updates to surfaces.
The ready mix association also highlights the following actions ready mix producers should be taking to ensure the safety of their employees:
Think first
Use 3 points-of-contact when ascending or descending stairs or ladders
Keep focused on footing and hand rails
Limit slippery or icy surfaces
Keep surfaces dry
Adhere to proper housekeeping
Eliminate obstacles
Spread sand and/or salt
Use boot/shoe crampons or cleats
Lay out anti-slip mats or treads
Maintain proper lighting