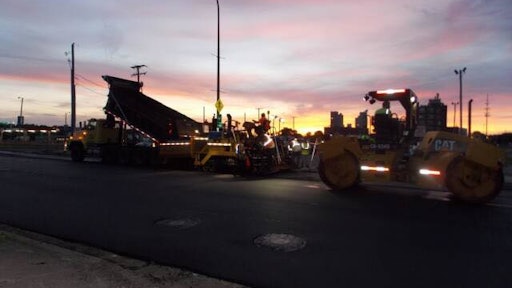 Ben Waterman/Facebook
Highway and bridge contractors added 16,800 workers to their payroll in January compared to the same period in 2019, marking the sixth consecutive year of first-month job gains. Employment in this sector is now 301,400.
Construction industry employment is growing, according to data from the U.S. Bureau of Labor Statistics. While all major construction sectors saw their workforces expand in January, highway, street & bridge construction had the strongest employment growth, rising by nearly 6 percent compared to last year.
This news echos what was reported in November 2019 as employment continues to grow.
These employees spent slightly more time on the job each week, averaging 42 hours compared to 41.8 in January 2019. Take-home pay also increased slightly—average weekly earnings in January inched up from $1,176 last year to $1,183.
General construction industry employment increased by 2 percent in January, driven by increases in building construction employment.
These employment dynamics reflect the overall trend in highway and bridge construction market activity. The nominal value of highway and bridge construction work in January 2020 was $4.88 billion, up 4.7 percent compared to January 2019, according to the U.S. Census Bureau. Total transportation construction was up 4.1 percent.
ARTBA is forecasting continued growth in the transportation construction market in 2020, which will increase demand for workers. Read ARTBA's March labor report.