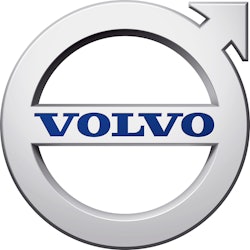 Volvo Construction Equipment entered a strategic alliance with Carlson Paving Products to add screed options for Volvo pavers. Through the agreement, the Astec-owned screed maker will update the Volvo Wedge-Lock screed and manufacture it at the Carlson plant in Tacoma, Wash. Screeds produced for the alliance will be sold exclusively through Volvo dealers in North America, but Carlson will provide field support.
An OEM supplier agreement between Volvo and Carlson also makes the existing line of Carlson EZ highway-class screeds available on new Volvo asphalt pavers and through Volvo dealers in North America. The 8- and 10-foot EZIII and EZIV Series screeds can be factory-installed on Volvo pavers. Carlson will be responsible for field support of the EZ screeds.
The Wedge-Lock screed is designed for use with Volvo 6000 Series asphalt pavers. The electrically heated self-contained vibratory screed will pave a basic 10-foot-wide asphalt mat with crowning capability at the mid-point. Power Crown is standard on the Wedge-Lock and adjusts from a 3-inch positive crown to a 0.75-inch negative crown.
The paving screed is available in two basic configurations -- a standard screed and a screed with 3/6 hydraulic extensions. The basic screed and all optional extensions are equipped with bolt-on replaceable, abrasion-resistant, 0.5-inch screed plates. All heating elements are also easily removable without requiring removal of the screed plate.
The electric-heated screed incorporates advanced-design heating elements positioned in direct contact with the upper surface of the main screed plate to deliver even, controllable heat.
Fully adjustable end gates have been updated on the new screed to allow for better joint control. An option is also available for heated end plates on the Wedge-Lock screed.
Companies in this article