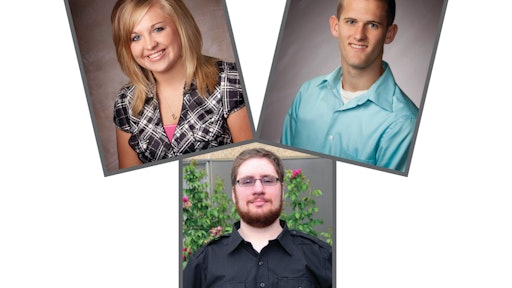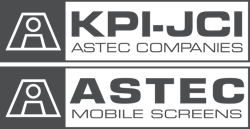 This year's interns – Daniel Filsinger of Clearwater, Neb, Cady Millage of Fordyce, Neb., and Paul Melino of Sioux Falls, SD – are the recipients of the internship, which was instituted last summer, said Lisa Carson, marketing manager for KPI-JCI and Astec Mobile Screens. The internship program is designed to give outstanding students a chance to hone skills learned in the classroom and apply them in a real-world business setting. Carson plans to develop the internship program as an ongoing strategy to recruit the best and brightest marketing students to KPI-JCI and Astec Mobile Screens.
"I am very excited about continuing the internship program," Carson said. "After the success of last year's interns, I am confident we will be able to build upon the foundation we've set and continue benefitting from the talent of the students; and more importantly, build upon their professional experience and skills."
Filsinger, a return intern from last summer, is a senior at Mount Marty College (MMC) in Yankton and is pursuing a dual degree in graphic design and media arts and business administration. He is involved in numerous extracurricular activities and serves as president of the MMC Student Government Association. His background in business will be used to create market share reports and research opportunities for prospective buyers. Filsinger's design skills will also be put to use through the development of new materials for dealer support.
"I am excited to return to KPI-JCI and Astec Mobile Screens. I truly enjoyed last summer and grew as a designer and a business professional," Filsinger said.
Millage is a senior at Dordt College in Sioux Center and will graduate December 2012. She is majoring in Digital Media Productions, with an interest in Marketing. After graduation, Millage plans to search for a career in the Marketing field. Her background in video production will be utilized to expand the marketing department's viral traffic, particularly for The Road Connection, a year-long campaign to improve the nation's infrastructure.
"I look forward to learning everything possible from the internship with the Marketing department. At the same time, my hope is that my Digital Media background will add something valuable to the team," she said.
Melino will be entering into his last year at Southeast Technical Institute in Sioux Falls, SD. After the completion of the year, he will receive his Associates Degree in Computer Aided Design. Melino heard about the internship through Southeast Technical Institute's Engineering Chairman, Lloyd Lunde. He will be aiding the engineering department by updating and drafting designs.
The internship program will run through the summer and conclude in August. Applications for the 2013 internship program will be due spring 2013. Please e-mail Lisa Carson for more details regarding the internship program. For more information on KPI-JCI and Astec Mobile Screens, visit kpijci.com.
Companies in this article