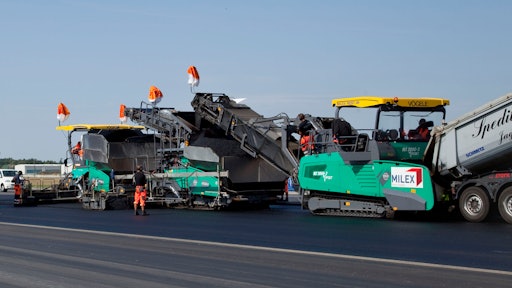 Road construction with compact asphalt pavements built "hot on hot by two pavers working one behind the other" was officially recognized as a standard method when General Circular ARS No. 2/2012 was issued by the Federal Ministry of Transport in early 2012.
Prompted by the method's inclusion in the German catalogue of standard construction methods, the German Road and Transportation Research Association (FGSV) organized a colloquium devoted to the subject.
High-ranking speakers from administration and the construction industry reported on their experience in numerous construction and rehabilitation projects. The advantages of compact asphalt pavements in general and VÖGELE's InLine Pave method in particular were explicitly commended. All the speakers stressed that InLine Pave yields significant advantages in terms of planning, construction, use and costs.
Extremely durable
Durability is one of the most important aspects. It results from the particularly stable bond between binder course and surface course, as they are not just "glued" together, but also interlock. This ensures that shear stresses are discharged from the asphalt surface course more effectively than with any other construction method. Through this mechanical relief, the service properties of the asphalt surface course are preserved for a significantly longer period of time.
Dittmar Marquordt from the road construction authority of Saxony-Anhalt described the effect as follows: "Compact asphalt pavements mean a leap in quality: rutting is effectively eliminated." And he should know, for the Land of Saxony-Anhalt has already built well over 1,000,000m² of compact asphalt pavement.
High compaction of the lower layer is another key to the superb quality of InLine Pave pavements, for it has a decisive effect on the service life of the asphalt pavement. Lars Keller, managing director of F. Winkler KG, reported that "measurements have shown that compaction is high throughout the full layer thickness. The resultant degree of density was between 97% and 99% everywhere."
Thinner surface course
VÖGELE InLine Pave also yields financial advantages, for the great stability makes it possible to lay a thinner surface course. The speakers presented examples from Germany and other European countries confirming that a 2cm thinner surface course on a 2cm thicker binder course produces excellent results, even in the long term. The potential savings are enormous, not only in construction, but also for the road's subsequent maintenance.
Longer paving season
The fact that InLine Pave from VÖGELE extends the paving season was another major aspect for both public authorities and contractors. With this method, paving can continue even when ambient temperatures are too low for paving single layers. The reason lies in the higher heat capacity of the thick asphalt package when it is paved. As a result, it cools very much more slowly than a conventionally built pavement.
Suitable for different roads
The reports also concurred with regard to the variety of possible uses: InLine Pave is consequently not only a cost-efficient method for motorways and roads of the highest construction class SV (in future: load class BK 100 according to RStO 12), but also for less heavily trafficked roads up to construction class IV (in future: load class BK 1.0 according to RStO 12). Binder and surface course are combined in exactly the same way as base and surface course or two layers of porous asphalt (ZWOPA). The only point to be ensured is that the lot size must not be too small.
Working with variable widths between 3.2m and 8.5m is another advantage of the InLine Pave method. Rehabilitating single lanes is just as straightforward as the construction or rehabilitation of roads with several lanes.
Tenders must be invited
Inviting tenders for this method was another important topic in addition to the practical reports. Construction industry representatives see enormous growth potential in the public sector when it comes to inviting tenders for such compact pavements. The official representatives in turn encouraged their colleagues to invite tenders for compact asphalt pavements for new roads and extension projects, as well as for extensive rehabilitation of surface courses. Even if the method is not explicitly specified, corresponding alternative bids are always welcome.
About VÖGELE's InLine Pave method
An InLine Pave train comprises a material feeder and two pavers. The feeder has a long conveyor via which it alternately supplies the two pavers with material. The most important part of the train is the SUPER 2100-2 IP paver with AB 600 High Compaction Screed in TP Plus version.
A standard paver with minor modifications, it is equipped with a special transfer module to transport the asphalt to the second paver in the InLine Pave train. The surface course is placed on the highly compacted binder course by a paver of type SUPER 1800-2 or SUPER 1600-2 with standard AB 500 TV Extending Screed following directly behind it.
Since all three machines undergo only marginal modification for the InLine Pave process, they can also be used for conventional projects.
Companies in this article