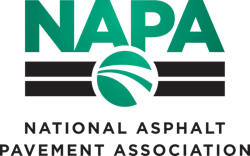 The National Asphalt Pavement Association's Diamond Commendation program is now accepting new and renewal applications today. The Diamond Commendation program helps asphalt producers and pavers benchmark their operations and improve product quality.
Diamond Achievement Commendations recognize facilities for their operational activities and community relations; Diamond Quality Commendations gauge the use of best practices that ensure the production of high-quality asphalt mixtures; and Diamond Paving Commendations recognize paving companies for their operations and worker safety practices. New for 2014 is the Diamond Achievement Sustainable Commendation, an optional expansion of the Diamond Achievement Commendation that measures how well a facility puts economic, environmental, and social sustainability into practice.
The Diamond Commendation application process can be completed online at www.AsphaltPavement.org/diamond.
Asphalt facilities and paving companies that earn a Diamond Commendation stand apart from the competition and a gain an affirmation of their commitment to operational excellence and community engagement. "We have earned respect from the local government for adhering to Diamond requirements," said The Scruggs Co. Plant Manager Clifford Lovett. "They know we are held to a higher standard."
NAPA 2014 Chairman Bill Ensor is a champion of the Diamond Commendation program because it promotes best practices known to produce quality pavements. "Our industry's success is built on quality asphalt pavements. We benefit collectively and as individual companies when we follow best practices and continue to strive for improvement. The Diamond Commendation program allows us to do this by benchmarking our operations and providing a blueprint for how to improve."
Companies that earned a 2013 Diamond Commendation are listed on the NAPA website, www.AsphaltPavement.org/diamond. As facilities and practices change, companies are encouraged to renew their Diamond Commendations annually. Companies that earn a 2014 Diamond Commendation will be recognized during the NAPA Annual Meeting in January 2015.