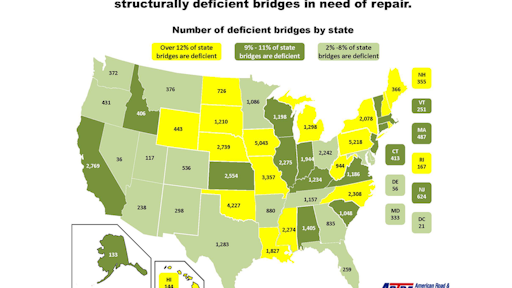 Data from a new government report show that if all the structurally deficient bridges in the United States were placed end-to-end, it would take you 25 hours driving 60 miles per hour to cross them.  That's like driving the 1,500 miles between Boston and Miami. And it's a problem that's close to home.
Analysis of the 2013 National Bridge Inventory database recently released by the U.S. Department of Transportation (USDOT) shows cars, trucks and school buses cross the nation's more than 63,000 structurally compromised bridges 250 million times every day. The most heavily traveled are on the Interstate system.
The problem could get a lot worse, the chief economist for the American Road & Transportation Builders Association (ARTBA) says, as states across the nation face a slowdown in reimbursements for already approved federal-aid highway projects in August. Without congressional action, Dr. Alison Premo Black says there will be no Highway Trust Fund support for any new road, bridge, or public transportation projects in any state during FY 2015, which begins October 1. 
"Letting the Highway Trust Fund (HTF) investment dry up would have a devastating impact on bridge repairs," Black says, noting the trust fund has supported $89 billion in bridge construction work by the states over the past 10 years.  "It would set back bridge improvements in every state for the next decade."
Despite recent economic woes, there as been real investment in recent years by state and local governments which have continued to increase investment in bridges over the last few years. But, says Black, this investment is a drop in the bucket of what is needed to maintain our aging infrastructure.
"The bridge problem sits squarely on the backs of our elected officials," Black says.  "The state transportation departments can't just wave a magic wand and make the problem go away.  It takes committed investment by our legislators.  Members of Congress need to come to grips with that.  Some of our most heavily travelled bridges were built in the 1930s.  Most are more than 40 years old."
Mike Cegelis, a senior vice president with Pennsylvania-based American Bridge Company, which builds bridges in the U.S. and overseas, says the bankruptcy of the HTF has a direct impact on thousands of construction jobs as well as the position of the U.S. in the world as a technology leader.
"As we invest less in our bridges and infrastructure, there is a stagnation of engineering, technology and product development," says Cegelis. "America is losing its leadership role in the world in these areas. Other countries see the benefits and importance of a well-maintained transportation network to their economy. Our Congress needs to recognize this and fix the HTF now."
The two-year, stop-gap highway funding bill passed by Congress in 2012 ends Sept. 30. Most infrastructure reform advocates are pushing for a 5- or 6-year funding bill of the sort that Congress has normally approved.
Options that have been discussed include raising the federal gas tax, implementing more tolling, supplementing gas tax revenue with money from closing corporate tax loopholes and transferring money from the General Fund.
Bridge decks and support structures are regularly inspected by the state transportation departments for deterioration and are rated on a scale of zero to nine — nine being "excellent" condition.  A bridge is classified as structurally deficient and in need of repair if its overall rating is four or below.
While these bridges may not be imminently unsafe, ARTBA suggests they be sign posted so the public knows they have structural deficiencies that need repair.
The ARTBA analysis of the bridge data supplied by the states to the USDOT found:
The 250 most heavily crossed structurally deficient bridges are on urban interstate highways, particularly in California.  With one exception, all are at least 39 years old.
Pennsylvania (5,218), Iowa (5,043), Oklahoma (4,227), Missouri (3,357) and California (2,769) have the highest number of structurally deficient bridges; Nevada (36), Delaware (56), Utah (117), Alaska (133) and Hawaii (144), the least.
At least 20 percent of the bridges in four states — Pennsylvania (23 percent), Rhode Island (22 percent), Iowa (21 percent) and South Dakota (21 percent) — fall in the structurally deficient category.
State specific bridge information from the analysis — including rankings and location lists of the 250 most heavily travelled structurally deficient bridges in the nation and 10 most heavily travelled in each state — is available by clicking here.