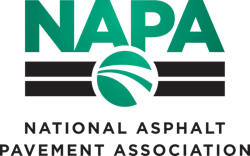 All projects, no matter their size, deserve extra care and attention. In 2013, NAPA established a new recognition for contractors who build the ten top-rated general paving projects. Now, all pavements submitted for a NAPA Quality in Construction (QIC) Award that utilize less than 50,000 tons of asphalt will be eligible to win a Larry H. Lemon Quality in Construction Award.
To enter a project for a Quality in Construction Award and be eligible to receive the Larry H. Lemon Award, simply fill out the Quality in Construction Awards - General Paving nomination form, submit the project nomination fee of $125, and upload five photos of your paving project.
QIC Award winners are selected based on quantifiable data submitted and rated by the pavement engineers at the National Center for Asphalt Technology. All paving projects that meet the benchmark figure win a QIC Award. NAPA gives ten hardhat decals, a lapel pin, plaques for each winning project, and two complimentary tickets to the awards ceremonies at NAPA's meetings.
NAPA highlights all award winners in Asphalt Pavement magazine; on our website, AsphaltPavement.org; and at special ceremonies during our meetings. 2014 Quality in Construction Award winners will be honored at NAPA's Annual Meeting in Marco Island, FL, in January 2015.
Nominations for Quality in Construction Awards fall into three categories - airport pavements, general asphalt paving projects, and highway projects utilizing more than 50,000 tons.
Begin the nomination process today. The deadline is Oct. 7. Go to AsphaltPavement.org/Awards to begin. Contact Ester Magorka, Director of Awards & Marketing Programs, with any questions. 
The award is named for Larry H. Lemon whose company, Haskell Lemon Construction Company, is a charter member of NAPA. Lemon faithfully served on the Awards Committee for 18 years until his retirement. He was instrumental in the creation of the rating system for the Quality in Construction Awards. Lemon still travels to NAPA meetings to stay close to industry friends and learn the latest industry developments.