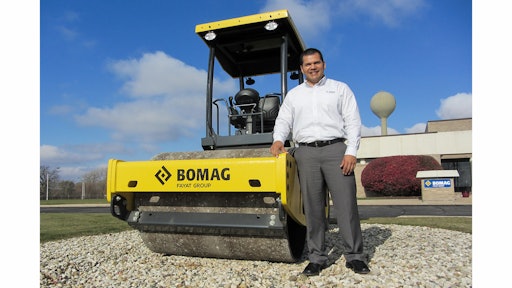 BOMAG Americas, Inc. has promoted Sergio Solis from his inside sales support position to field Territory Manager in the Midwestern region, replacing Larry Keach, who recently retired. Solis brings to his new position 14 years of operations management and sales experience, including 9 years with BOMAG inside sales support. The Midwest territory includes the states of Illinois, Iowa, Minnesota and Wisconsin, along with Michigan's Upper Peninsula and Fenton, Mo. Solis will work with authorized distributors in the region to provide customers with training, sales and application support for BOMAG's broad line of road building, heavy compaction, landfill, asphalt rehabilitation and light compaction equipment.
"Over the years, Sergio has worked extensively with our territory managers and distributors to support their needs from the factory," says John Hood, director of sales, heavy equipment for BOMAG Americas, Inc. "He has intimate working knowledge of the BOMAG, Cedarapids and CMI product lines and has proven to have the initiative, talent and drive to successfully support our distributors and customers in the field. His ability to speak both English and Spanish will be advantageous in large, diverse markets such as Chicago and St. Louis."
A Kewanee native, Solis began his career in operations management for a leading local furniture company. He moved to BOMAG Americas in 2005 to take the inside sales position of Customer Support Administrator, where he worked with BOMAG territory managers and distributors to provide equipment training, sales and parts support services.  
"I look forward to meeting those dealers and customers in person who I've supported from the factory, and I'm excited to forge new relationships," says Solis. "BOMAG has solid representation throughout the Midwest territory and a full complement of road building, compaction and asphalt rehabilitation equipment to meet virtually any application need."
Solis will be based out of Kewanee, IL, within his territory, to better support BOMAG distributors and customers. He can be reached at 309-312-0416 or Sergio.Solis@bomag.com.