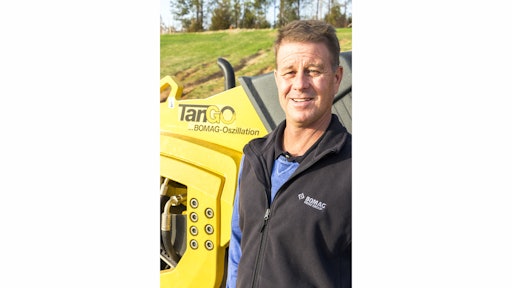 BOMAG Americas, Inc. announces that Glenn Leighton has joined BOMAG as the Territory Manager for the West/Southwest U.S. territory. Leighton has more than 15 years industry experience, working for both heavy equipment distributors and equipment manufacturers during a sales career that has spanned 30 years. In a territory that includes Arizona, California, Nevada, Oregon and Washington, Leighton will work with both authorized distributors and contractors to provide equipment solutions from BOMAG's entire line of road building, heavy compaction, landfill, asphalt rehabilitation and light compaction equipment.
"Glenn brings a wealth of valuable experience to the position and will be a tremendous resource for distributors and contractors working in this region," says John Hood, director of sales, heavy equipment for BOMAG Americas, Inc. "By working in retail for heavy equipment distributors, he has a unique understanding of the customer's equipment and financial needs. He will be able to work with BOMAG distributors throughout his territory to supply the right equipment to efficiently and profitably complete projects."
Leighton began his construction industry experience working for heavy equipment distributors in Southwestern U.S. He then moved to Australia for five years to take a management positon with a global heavy equipment manufacturer. Most recently, he worked as a field sales representative for Road Machinery, LLC, in Arizona, before taking the BOMAG territory manager position.
"With the BOMAG, Cedarapids and CMI reclaimer/stabilizer brands all under one company, I'm excited to be working with some of the best known names in the compaction and road building business," says Leighton. "I look forward to working through our BOMAG distributors to provide training for our customers and put together equipment and financing packages that they need to succeed."
Residing in his Southern California office with his wife and two sons, Leighton is field-based to quickly respond to customer requests. He can be reached at 803-900-0705 or Glenn.Leighton@bomag.com.