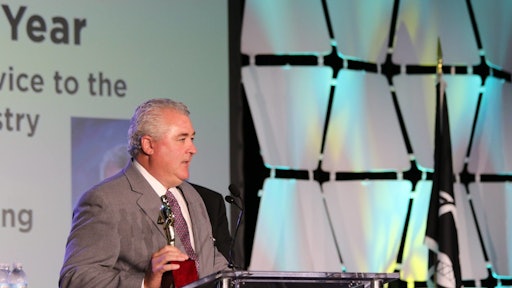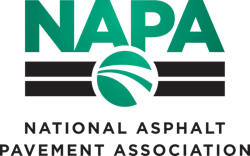 John J. Keating, President and Chief Operating Officer, East, for Oldcastle Materials, was honored today (Jan. 28) as the National Asphalt Pavement Association's Man of the Year during a surprise ceremony at the association's 60th Annual Meeting in Marco Island, Fla.
Last presented in 2009, the Man of the Year honor recognizes outstanding contributions by industry leaders for the betterment of the entire asphalt industry. Keating was honored for his leadership in developing the asphalt industry's marketing and communications platform and strengthening and unifying the partnership between the Asphalt Institute, the State Asphalt Pavement Associations, and NAPA.
"John possesses a clarity of purpose that has guided the industry's market share efforts from inception to today," says Ron White, the 2007 Chairman of NAPA, who presented the award. White leads the Pavement Economics Committee, which directs NAPA–SAPA-funded research efforts.
"He clearly saw that the asphalt industry needed to stand up and talk about its product, using sound science and the trusted relationships held with road owners to share why asphalt pavements have always been and should always remain the pavement of choice when building new or reconstructing old pavements — they are smoother, safer, quieter, and quicker and easier to construct," says White.
Keating currently heads the industry's Marketing Council, which brings together leadership from AI, NAPA, and the SAPAs to oversee research, marketing, and deployment activities for the asphalt pavement industry. These activities are grounded in pavement science and engineering and are backed by extensive market research into the needs of road owners and drivers.