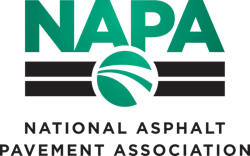 With a variety of new equipment and innovations as a backdrop, members of the Silica/Asphalt Milling Machine Partnership were recognized during World of Asphalt 2015. The ceremony last week marked the successful completion of the partnership's efforts to develop and validate engineering controls for silica dust in asphalt milling operations.
The Silica/Asphalt Milling Machine Partnership — which is made up of the National Asphalt Pavement Association (NAPA), milling-machine manufacturers, labor, academia, and the National Institute for Occupational Safety and Health (NIOSH) — has worked over the past decade to design, test, and implement engineering controls for milling machines that effectively reduce potential silica exposure below OSHA's new proposed permissible exposure limit (PEL).
During the ceremony, Dr. Christine Branche, Director of the Office of Construction Safety and Health at NIOSH, spoke on the devastating effects of crystalline silica exposure and highlighted the recent release of an asphalt milling best practices document to ensure milling machine worker safety. "Some 1.7 million U.S. workers are exposed to respirable crystalline silica in a variety of occupations, including road and highway workers," Branche said. "It is incurable, but completely preventable." Also released was a field guide developed by NAPA and CPWR — The Center for Construction Research and Training covering best practices for milling operations.
"Thanks to this constructive partnership between industry, equipment manufacturers, labor, and regulators, engineering controls that ensure worker protection during roadway milling operations will soon be standard equipment on milling machines," said NAPA President Mike Acott. "It shows the sort of progress that can be made when government, labor, and industry work together, in a voluntary fashion, to address real-world issues."
Copies of the NIOSH guide, "Best Practice Engineering Control Guidelines to Control Worker Exposure to Respirable Crystalline Silica during Asphalt Pavement Milling," can be downloaded from http://go.usa.gov/3cseQ. The CPWR/NAPA "Field Guide for Controlling Silica Dust Exposure on Asphalt Paving Milling Machines," can be downloaded from http://goaspha.lt/1DxPbLr.
The World of Asphalt ceremony also included comments from NAPA Chairman Michael Cote, Executive Vice President & Chief Development Officer at Lane Construction Corp.; Donald "Chip" Booth, Safety and Health Director at the International Union of Operating Engineers; Scott Schneider, Occupational Safety and Health Division Director at the Laborers' Health & Safety Fund of North America; and James H. Bevill, Chief Engineer of Cold Planers at Roadtec Inc.