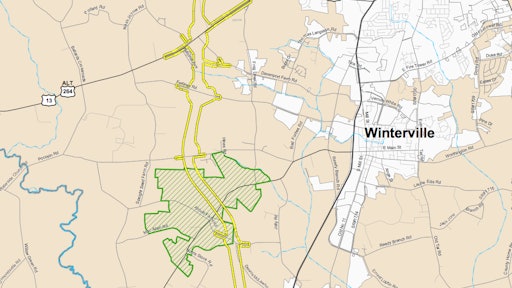 North Carolina Department of Transportation awarded a $159.6 million design-build contract to Barnhill Contracting to build the Greenville Bypass which will go around the west side of Greenville and Winterville between the U.S. 264 Bypass and N.C. 11.
Construction is expected to start in March 2016, and the project should be completed by July 2019. The design-build method allows the design, environmental permitting, right-of-way acquisition, utility relocation and construction to take place at the same time under one contract. This method reduces overall construction time, helps the department avoid cost inflation, allows the contractor to make innovations that save taxpayers money, lessens environmental impact and alleviates driving delays for motorists.
The 12.4 mile, controlled-access four-lane divided highway with a 70 miles per hour speed limit will include five interchanges. Commercial and residential development near those interchanges is expected to spur growth in the area.
The Bypass is expected to relieve congestion on Memorial Drive and U.S. 264 Business, as well within the city of Greenville. The improved traffic flow in the region in turn should also improve safety on area roads.