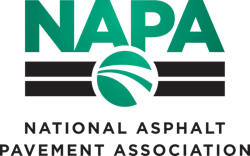 The National Asphalt Pavement Association (NAPA) names the winners of its 2014 Asphalt Operations Safety Innovation Award. Two companies were recognized at a special ceremony during the association's Midyear Meeting in Denver.
The Asphalt Operations Safety Innovation Award recognizes the development and implementation of innovative ideas that lead to improved worker safety in a roadway work zone, plant site, or quarry environment, and companies whose safety practices go above and beyond normal safety practices.
Lakeside Industries Inc. of Issaquah, WA, won the award for its hearing-protection program, which safeguards workers' hearing with custom-fitted earplugs. In 2011, Lakeside Industries began offering dB Blockers™ — a custom-fit hearing protection solution developed by Custom Protect Ear — for its employees. The dB Blockers feature removable vents that allow ambient noise to enter the ear, while filtering out harmful noises. This allows workers to hear traffic and directions from colleagues while still limiting noise exposure and ensuring a consistent level of hearing protection.
Payne & Dolan Inc. of Gladstone, MI, won the award for its break-away paver guide bar innovation. Typically, a guide bar is used by the paver operator to hold a true line while paving. Paver manufacturers usually offer as standard equipment a steel rod that inserts into a steel pipe at the front of the paver and is adjustable up to about 6 feet. When workers need to approach the front of the paver, the bar presents a tripping hazard and serious injury can occur if the paver is in motion. Through a collaborative process, Payne & Dolan employees were able to manufacture a spring-loaded mechanism that allows the bar to break away if it strikes an object or person while still withstanding day-to-day use in paving operations.
"The five Operational Excellence Award categories — Asphalt Operations Safety Innovation, Community Involvement, Ecological, Outstanding Brochure, and Outstanding Website — recognize asphalt pavement industry leaders who are excelling at the operational practices that make for good neighbors and successful businesses," stated Jim Mitchell, Chairman of the Awards Committee.
The Operational Excellence Awards honor leaders in the asphalt pavement industry for innovation and excellence in marketing, communications, and community outreach with the Community Involvement, Outstanding Brochure, and Outstanding Website Awards. Companies also are lauded for their responsible practices with the Asphalt Operations Safety Innovations and Ecological Awards.
The Operational Excellence Awards are a counterpart to the annual Quality in Construction Awards, which recognize asphalt paving jobs completed in line with best practices and standards known to yield high-quality asphalt pavements.
The NAPA Awards Program recognizes and encourages continuous improvement in all aspects of paving and asphalt operations. The 2015 NAPA Awards program is now accepting nominations. Quality in Construction Award nominations are due by Oct. 9; Operational Excellence Award nominations are due by Dec. 4.
For more information about the NAPA Awards program, or to nominate a project or company for an award, visit AsphaltPavement.org/Awards.