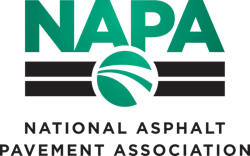 Last year, asphalt production facilities, terminals, and paving companies in 49 states and five Canadian provinces earned Diamond Commendations, demonstrating their commitment to excellence and best practices.
In total, 753 asphalt mix production facilities across the United States and Canada earned the Diamond Achievement Commendation, which focuses on best practices for plant operations; environmental, health, and safety compliance; and community relations. Of these, 214 facilities earned the Diamond Achievement Sustainable Commendation, which recognizes those facilities that have made even greater strides in incorporating the principles of long-term environmental, social and economic sustainability into their operations.
Also, 256 facilities earned a Diamond Quality Commendation, which helps ensure a high level of quality for pavement material produced by a plant, and 40 paving divisions earned the Diamond Paving Commendation, which encourages and recognizes excellence in paving operations. Eighteen asphalt terminals earned the new Diamond Terminal Commendation, which benchmarks best practices for standalone terminal and storage operations, environmental compliance and community relations.
"The Diamond Commendation program encourages continuous improvement. It is a way for asphalt plants to benchmark their operations, and it provides a blueprint for how to improve them," said NAPA 2015 Chairman Michael Cote. "These commendations help a facility gain recognition for being a good, conscientious operator while also providing guidelines to help make it an even better neighbor."
Originally developed in 1999, the Diamond Commendation Program, operated by the National Asphalt Pavement Association, was revamped for 2016 to account for changes in materials, technologies, regulations, and operational practices. The 2016 Diamond Commendation program will begin accepting applications on April 1, 2016. Additional information and the application process can be found at www.AsphaltPavement.org/diamond.