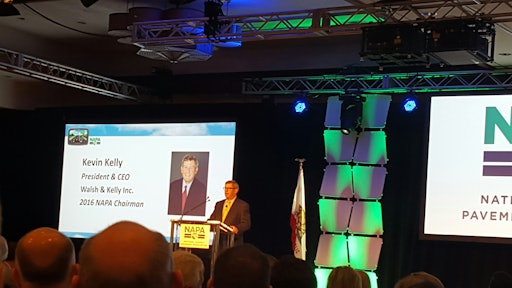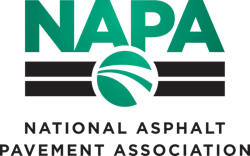 Kevin Kelly took his position as the 2016 Chairman of the National Asphalt Pavement Association (NAPA) at a ceremony Feb. 8 during the association's 61st Annual Meeting. As chairman, Kelly is responsible for guiding NAPA's efforts to support the asphalt pavement industry.
Kelly is president and CEO of Walsh & Kelly, based in Griffith and South Bend, Ind. The company operates five permanent asphalt plants and offers civil contracting services, including excavation, grading, and paving, throughout northern Indiana.
Priorities for Kelly's term as NAPA chairman include legislative issues, market-share concerns, and pavement performance. "For the first time in a decade, we have a long-term highway bill, but our work in Washington is not over," said Kelly. "We have to watch at the state and federal levels how the FAST Act is implemented, and we still need to secure a stable funding stream for the construction, maintenance, and improvement of our nation's infrastructure."
Kelly has long been a strong voice for the asphalt pavement industry, traveling regularly to Capitol Hill to discuss infrastructure and funding issues with members of Congress. He has served on the NAPA Legislative and PAC committees since 2007, and he was vice chairman of the MAP-21 Reauthorization Task Force. More recently, Kelly chaired the NAPA Pavement Performance Task Group, which has developed common-sense strategies for mix design and construction practices that can help ensure asphalt pavement performance and durability.
"This is an exciting time for NAPA and our industry. We have a number of important educational and research efforts that are bearing fruit, and the FAST Act gives us the chance to work with road owners to deliver high-quality asphalt pavements to the driving public," Kelly said.