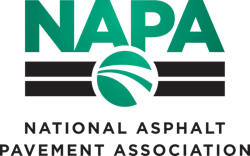 The National Asphalt Pavement Association Research and Education Foundation (NAPAREF), a 501(c)(3) non-profit, and the NAPA Associate Members Council (AMC) raised more than $109,000 in bids and donations to benefit the NAPA Care Emergency Benevolent Fund during the recent NAPA Annual Meeting in La Quinta, Calif.
The NAPA Care Emergency Benevolent Fund — www.AsphaltPavement.org/NAPACare — provides immediate financial assistance to NAPA Member company employee's family who suffers a fatality in an asphalt work zone or plant site. Since its inception in 2012, the program has helped 19 families.
"When a tragedy strikes, families need to be able to focus on their grief, not worry about money," said Roger Sandberg, Chairman of the AMC NAPA Care Task Group. "NAPA Care exists to support families so they can focus on what's most important."
"NAPAREF is grateful for the work of the AMC and everyone who donated items for the auction, sponsored the event, and those who bid on items. The money raised will help ensure NAPA Care is there to help families in their time of need," said Peter A. Wilson, Chairman of the NAPAREF Board of Trustees.
NAPA and its member companies are committed to ensuring safe workplaces. Unfortunately, incidents can occur in even the best designed roadway work zone or asphalt production facility. The association continues to work with regulators and industry groups to develop, promulgate, and implement best practices for the safety and welfare of workers in the asphalt production and roadway construction sectors.