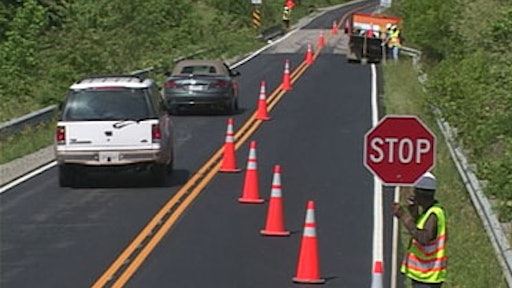 Imagine your office work space literally within feet of traffic whizzing by you at 60 miles per hour or more. That's the situation facing road construction workers every day on transportation improvement projects all across America.
As part of the 18th annual National Work Zone Awareness Week (NWZAW) held April 3-7, the American Road & Transportation Builders Association (ARTBA) Foundation is calling on drivers to stay off their mobile devices, slow down, and pay close to attention to nearby road workers when traveling through these construction zones.
Nearly 700 people, including 130 workers, are killed annually in roadway work zone accidents. More than 35,000 people are injured in these sites.
The 18th annual event under the theme, "Work Zone Safety Is In Your Hands," officially kicks off with an April 4 (10:30 a.m.) event hosted by the Maryland State Highway Administration at the Georgia Ave./Randolph Rd., interchange in Silver Spring, MD.

The annual NWZAW urges motorists to "Drive Toward Zero Crashes," which means:
Read and follow work zone signs;
Pay attention to other drivers;
Stay focused, and avoid distractions such as mobile devices;
Expect the unexpected, try to anticipate problems; and
Keep your cool. Be patient.
The ARTBA Foundation's National Work Zone Safety Information Clearinghouse (www.workzonesafety.org), is also available as a valuable resource for stakeholders interested in learning more about the safety risks and hazards with road construction zones. 
The facility, which is celebrating its 20th anniversary this year, handles more than 200,000 requests annually, can help users find information on: accident and crash data, flagging, emerging technologies and equipment, best practices, key safety experts, laws and regulations, safety standards, research publications, training videos and programs, and successful public education campaigns. Materials are available in Spanish, Chinese, Japanese, French, Russian, and Arabic.
The ARTBA Foundation also noted the late 2016 launch of another groundbreaking initiative aimed at improving motorist and worker safety. The Safety Certification for Transportation Project ProfessionalsTM (SCTPP) program features this vision: "To ensure the safety and well-being of construction workers, motorists, truck drivers, pedestrians and cyclists and their families by making transportation project sites worldwide zero-incident zones."
To learn more about the SCTPP, visit: www.puttingsafetyfirst.org.