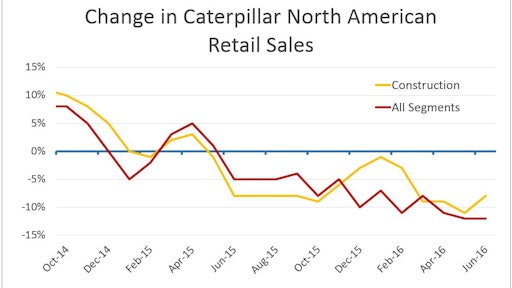 The investment community has made much of Caterpillar's nearly 45 consecutive months of retail sales declines. Company's sales dropped for "only" 19 months in the depths of 2007 and 2008's recession.
Peoria's consistent quarterly-report hand wringing over the prolonged mining-industry downturn and badly slumping developing markets such as China and Brazil might give we in the U.S. construction industry reason to feel like a relatively secure island on a threatening economic globe.
Caterpillar and investors do, after all, consider the company's financial performance to be a leading economic indicator. Little news at the top of the quarterly financial releases about Caterpillar's largest business segment – Construction Industries – or its largest geographical market – North American Construction Industries – might seem like good news.  
It may be a bit of a blow, then, to discover that retail sales accrued to Caterpillar's Construction Industries by North American dealers have fallen for 14 consecutive months.
Don't let this pull the rug out from under you. Caterpillar's financial performance is just one part of a complex economic picture, and smart people keep watch over the monthly releases of construction-economic indicators and the various forecasts for the U.S. construction market (see the latest at left, under "Related Contents").