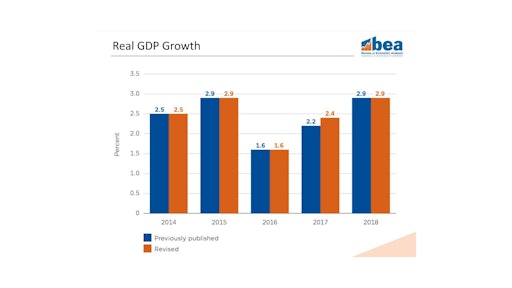 Bureau of Economic Analysis
Real U.S. GDP grew at an annualized rate of 2.1% in the second quarter of 2019; stronger than the 1.8% rate expected in some consensus forecasts. The year-over-year growth rate estimated in the U.S. Department of Commerce's data slowed to 2.3% in the second quarter from the 2.7% clip registered in Q1.
Personal consumption expenditures (PCE) in Q2 shot up 4.3%, with spending on durable goods soaring nearly 13%, the strongest sequential growth rate in five years. Expenditures on non-durable goods jumped 6.0%. Spending on services grew 2.5%.
Government spending was another notable area of strength, growing 5.0%. But a 15.9% jump in non-defense federal spending reflects a rebound from the government shutdown in December and January. Jay Bryson, acting chief economist with Wells Fargo Economics, expects overall government spending to grow more slowly in coming quarters.
Residential construction spending logged its sixth consecutive quarter of decline, slipping 1.5%. Real exports fell 5.2%, which reflects slower growth in the rest of the world as well as the result of trade wars. Although real imports were essentially flat, real net exports sliced 0.7 percentage points from overall GDP growth. Less inventory accumulation than in the first quarter reduced overall GDP growth by another 0.9 percentage points.
Construction Lets GDP Down in Q1 2019
The Wall Street Journal reports that the Commerce Department's revisions to gross domestic product data showed GDP in the fourth quarter of 2018 grew 2.5% compared to a year earlier, sharply down from the most recent estimate of 3%.
Revisions, incorporating some new and more complete data, also show the economy grew more slowly than previously reported in Q2 2018 – at a 3.5% annual rate rather than 4.2%. 
The changes downgraded the U.S. economy's 2018 growth to 2.9%, still the strongest yearly pace since 2015.
The economy has grown 2.3% per year on average through this expansion, but President Trump promised to boost the rate to 3% or more through tax cuts, deregulation and tougher trade policy. The Trump administration's budget had projected growth of 3% in calendar 2018, and Republicans justified 2017's Tax Cuts and Jobs Act on growth rates in that range.
Reuters reports downward revisions to 2018 figures largely reflected downgrades to business investment, suggesting corporations likely did not plow their tax windfall back into their businesses.
The 2.3% average annual economic growth of the current decade-long expansion compares with 2.9% during the previous expansion from late 2001 to 2007, and 3.6% in the 10-year expansion that ended in early 2001.
"In our view, today's GDP print has very few implications for the FOMC (Federal Open Market Committee) meeting on July 31," said Wells Fargo's Bryson. "Although the outturn was slightly stronger than expected, we still look for the FOMC to cut its target range for the fed funds rate 25 bps. Looking forward, we expect that real GDP will continue to grow between 2% and 2.5% in coming quarters. That said, inflation continues to run below the Fed's target of 2%, and the FOMC seems to be concerned about some of the uncertainties related to trade and other geopolitical factors that cloud the economic outlook. Many members of the FOMC seem to be taking the view that it should probably take out a few 'insurance' rate cuts at this time, especially in an environment in which high inflation simply is not a problem."
More Resources
Economy Looks Solid; Here's Why the Fed Plans to Risk a Rate Cut Anyway
US Housing-Starts Slide in June Caps a Sinking First Half of 2019
May US Construction Spending Slips on Nonresidential's First 2019 Decline