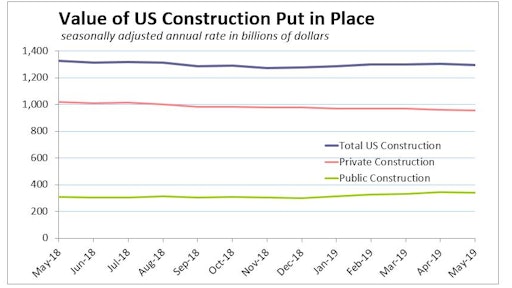 Data: U.S. Department of Commerce
U.S. construction spending unexpectedly fell in May as investment in private construction projects dropped to its lowest level since January 2017.
The Commerce Department's monthly estimates of the value of construction put in place showed May construction spending declined 0.8%, the biggest drop since November. Data for April was revised to show construction outlays rising 0.4% instead of being unchanged as previously reported.
CNBC reports that economists' consensus forecast construction spending would rise 0.1% in May. The total value of construction since the first of 2019 is 0.3% below the first five months of 2018.
Residential construction – the biggest construction spending segment, nearly five times the size of the largest nonresidential segment – once again led the decline, falling 0.6%. May was the fifth consecutive month of falling residential investment, and the tenth residential-spending decline in 12 months. Year to date, spending on residential construction has fallen 8.2%.
Multifamily residential construction spending stood out with a 1.9% rise in May, its third consecutive monthly gain. Apartment and condo building continues to surpass expectations and is up 8.9% year-to-date.
The Wells Fargo Economics Group says single-family development remains hampered by rising land and skilled labor costs. Single-family fell 0.8% in May and is down 6.5% year-to-date. Home improvement spending also remains weak. May's 1.2% dip marks the fourth drop in the past five months.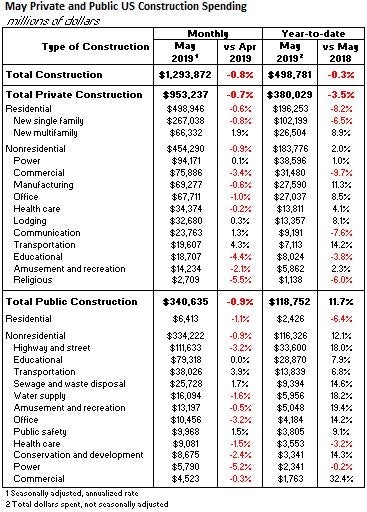 Nonresidential spending has grown a substantial 5.7% year-to-date but delivered its first monthly decline of the year, sliding 0.9% in May.
One nonresidential segment is a significant source of difficulty. The vast commercial segment fell 3.4% in May. Total commercial construction spending year-to-date has plunged 9.7% below that of the same period in 2018.
May's numbers showed the hefty manufacturing and office sectors reverse their growth trends and also slip. But year-to-date, manufacturing and office sectors have grown 11.3% and 8.5%, respectively.
Weak construction spending was the latest indication that U.S. economic growth slowed in the second quarter after getting a temporary boost from exports and an accumulation of inventory.
Consumer spending is rising moderately, while the pace of job and wage growth has slowed. In addition, manufacturing and the housing market are struggling and the goods trade deficit widened in May.