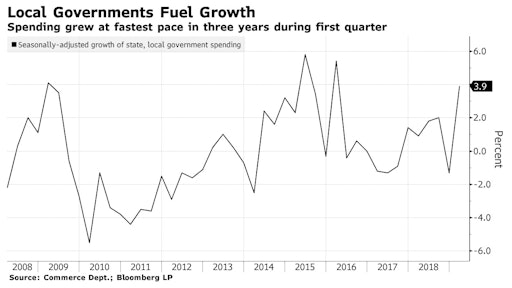 Data: US Commerce Dept.; Graph: Bloomberg LP
The Commerce Department on Friday said state and local government spending increased at an annual rate of 3.9% in the first quarter, the most since the start of 2016. The increase reflects financial improvement for states and cities in this decade-long economic expansion.
It may also reflect President Trump's failure to deliver the federal infrastructure spending increase promised during the 2016 presidential campaign.
"They [local officials] expected this large infrastructure package to work its way through Congress," said Dan White, director of government consulting and fiscal policy research at Moody's Analytics. "As it's become more clear that's not going to happen, states have put more of that one-time money to work for themselves."