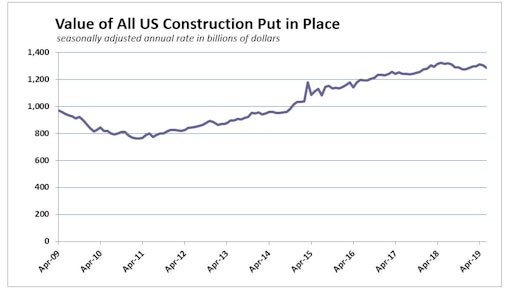 U.S. Department of Commerce, Census Bureau
June U.S. construction spending declined sharply and unexpectedly, falling by the most in seven months as investment in private construction tumbled to a more than 18-month low. Public construction fell 3.7%, the largest one-month drop since March 2002.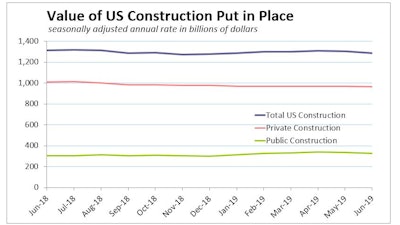 Economists surveyed by The Wall Street Journal had expected a 0.1% increase.
Economists polled by Reuters had forecast construction spending rising 0.3% in June.
Spending on private construction projects dropped 0.4% in June to $962.9 billion, its lowest level since October 2017, following a 0.3% May decline. Private residential spending fell 0.5% in June. Spending on residential construction has persistently contracted for six quarters, the longest such stretch since the Great Recession, even as mortgage rates have dropped sharply from last year's levels.
In the first half of 2019, the value of residential construction put in place is 7.8% less than the first six months of 2018, with expenditures on new single-family homes down a full 7.0%. The much smaller multifamily segment (about 13% of all U.S. housing spending) is 8.8% ahead of 2018's first-half total.
Spending on private nonresidential structures fell 0.3% in June after decreasing 0.6% in May. Private nonresidential investment has now declined for three straight months.
Second quarter investment in total nonresidential construction fell at its steepest pace in more than three years, helping to limit GDP growth in the period to a 2.1% annualized rate (GDP grew at a 3.1% pace in the first quarter).
Associated Builders and Constructors' Chief Economist Anirban Basu points out that, among the 16 nonresidential construction spending segments tracked by the Census Bureau, seven experienced increases in monthly spending. But only the conservation and development (+3.8%) and commercial (+1.3%) categories increased by more than 1%. While spending in several categories fell for the month, significant decreases in the publicly driven educational (-6.5%) and highway and street (-6.3%) categories accounted for nearly all of the monthly decline.
"Like the balance of the U.S. economy, nonresidential construction spending appears to be softening, albeit gradually" Anirban Basu
"Like the balance of the U.S. economy, nonresidential construction spending appears to be softening, albeit gradually," said Basu. "Private nonresidential construction spending has been trending lower for several months, and segments like office and lodging are no longer the drivers of construction spending growth that they had been, likely due to growing concerns about market saturation."
Despite its Q2 slowdown, spending in the nonresidential category in the first half of 2019 remains 1.7% above the same period last year, lead by a 14.6% leap in spending on highways and streets (virtually all public spending).
June's public-spending tumble happened at the state and local government levels, which fell 4.1%, also the biggest decline since March 2002. A 6.4% drop in road projects accounted for more than half of the drop. Federal construction outlays bounced 2.6% after plunging 5.6% in May.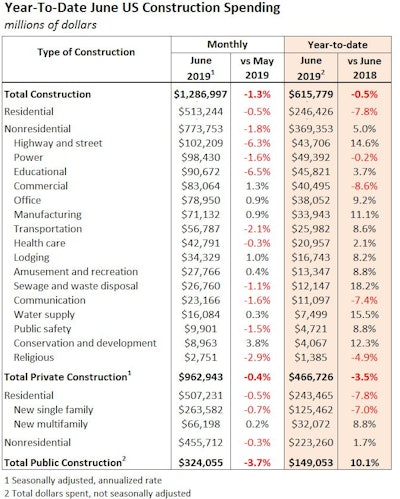 "The dip in public construction may have been merely temporary, which is likely the case given the ongoing strength of state and local government finances." said Basu. "And with the economy still adding substantial numbers of jobs, wages growing at or near a decade-high pace, consumers continuing to spend and property values remaining stable, local and state governments should continue to experience solid income, retail and real estate tax collections. All things being equal, that should help fuel infrastructure outlays, especially given still very low borrowing costs.
"While many observers continue to focus on issues such as trade disputes, high levels of corporate debt and asset prices that are susceptible to sharp declines, the U.S. construction industry's most significant source of uncertainty may be the pending insolvency of the Highway Trust Fund," said Basu. "That insolvency is now a mere two years away, and if policymakers fail to act expeditiously, state and local policymakers may choose to postpone certain projects given the rising uncertainty of federal funding. The highway/street and transportation categories are especially vulnerable to such dynamics."