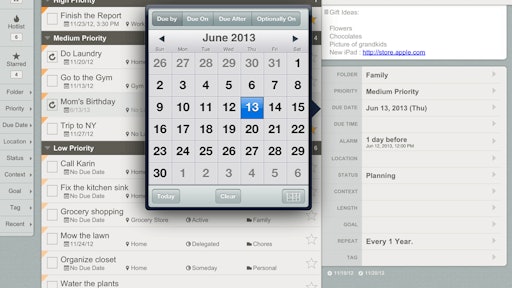 Mobile app: Toodledo – To Do List
Developer: Toodledo
Cost: $2.99
Available on: Apple, Android and Blackberry
In 2011, Apple ranked the Toodledo app in the top 200 apps for the iPhone. The Toodledo To Do List mobile app is a task and note manager that can help contractors organize their to-do lists and notes. While this is a general purpose to-do list app that can be used by any profession, the app is completely customizable allowing the user to turn features on or off to suit their job needs. The app can be used as a standalone application or synched with a Toodledo account for online task management.
The flexible app allows the user to keep it simple or add as much complexity as needed to keep track of to-do items. Toodledo has over 15 different attributes that can be tracked for your to-do lists including priority, due date, location, and more. The location feature can be especially useful for construction contractors so they can assign tasks to places on a map and receive alarms when they are near a place that needs work. Contractors may also want to use the length/timer field for tasks so they can estimate times for the tasks and track the actual time, which can then be used for billing.
Contractors can use folders, tags, contexts, subtasks and more to organize and search through tasks. With Toodledo's collaboration tools, you can also share portions of your to-do list with people, reassign tasks to people and even manage other people's to-do lists.
Video: Introduction to Toodledo To Do List Mobile Application for iOS
App features:
Track the priority, start date, due date, time, length or status of a task
Assign the task to a folder, context or goal
Flag the task with a visual star or tag it with keywords and notes
Get audible popup alarms
Create tasks that repeat on a schedule
Start and stop timers keep track of time spent on projects
View your tasks on a map and get proximity alerts when you are near a location where you have things to do
Search, filter, sort and drill down into your tasks in a variety of ways to see the subset of tasks that are useful right now and ensure that important tasks float to the top
Hotlist - smart to do list is automatically filled with important tasks based on a mathematical formula
Protect your tasks with a passcode
Imports from Reminders, allowing you to add tasks with your voice
Supports TextExpander touch snippet expansion
Organize and permanently store your longer free-form notes in the Notebook section
Securely sync with Toodledo to backup your data and sync between devices