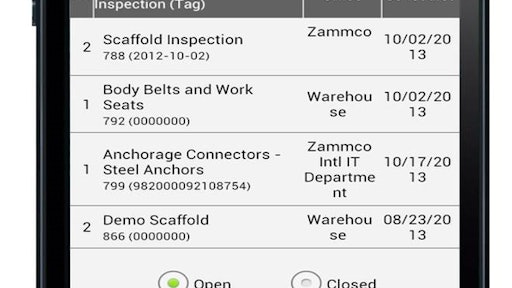 Mobile app: i-Safe 3.1 (iPervidi Paperless Inspections)
Developer:  Techs4Biz
Cost: Free
Available on: Apple and Android
The i-Safe 3.1 mobile app, also called the iPervidi Paperless Inspections mobile app, is designed to help streamline paperless inspection and inventory process for Capital Safety's i-Safe 3.0 Intelligent Safety System. The app allows the user to record and access inspection, inventory and purchase information.
Brochure: i-Safe 3.1 Intelligent Safety System with Mobile App
The biggest features and benefits of the app include: decreased inspection time, increased reporting methods, flexibility and ease of use for the end user.
App users can create their own checklists or select from one in the i-Safe library for both off-the-shelf and tailored processes for any size company. The advance checklist design includes custom answers and deficiencies for every task/question. The app also offers forms for any type of field inspections, safety audits, work orders, property assessments, asset management, service management, QA events, or custom forms.
App features:
Automates all aspects of inspections, work orders and field data collection
Links mobile devices, software and web portals for access to data and reports
Can be used as a hosted (cloud-based) service or installed in house
Offline' mode to record information in the field
Decision-based inspections
Automatic triggered email alerts and reports
Built-in corrective actions
Integrated barcode, RFID, signatures, date/time stamping, and picture taking
User-defined drop-down lists and deficiencies
Integrated repeat activities and scheduling
Multi-language support
Web portal access for management, clients and other remote stakeholders