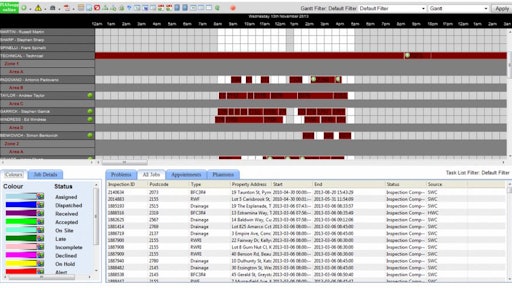 Mobile app: Retriever Scheduler
Developer:  Retriever Communications
Cost: Varies by functionality
Available on: Apple, Android and Windows devices
Where to download: Work with Retriever Communications to customize the app to your company's needs
The Retriever Scheduler mobile app provides service managers with near real-time status of a job and the activities required to complete the job. The app can help improve job visibility and scheduling capabilities as well as faster evaluation of a field technician's availability.  Working in the cloud, app users can schedule work to individuals using a web-based screen, and the app then pushes the information out to employees' mobile devices.
The app allows the user to schedule field work with three different methods. Drag and drop allows the dispatcher to evaluate who the best field worker for the job is and immediately dispatch the work to that worker's mobile device. The assisted scheduling method allows the app to automatically evaluate the best field worker for the job and present the choice to the scheduler to agree. The third method, optimized scheduling, looks at all jobs and workers over a designated time period and then presents full plans of work assignments that are optimized against SLAs, cost and travel.
According to Mary Brittain-White, CEO of Retriever Communications, three key features of this native app include reflecting actual workflow, the ability to reference other documents that might be needed for a job and the ability to show detail of work being done in a live environment.
The app also has a mapping feature that allows the scheduler to view where every employee is and where the work is being done on a map. A Geofencing feature can automatically indicates when an employee has crossed a GPS boundary indicating they have entered or left a worksite. The geofencing feature is beneficial for construction companies with bring your own device policies because it is installed on each employee's mobile device, and then the app reads the geofence parameters and makes a note of when that mobile device crosses a boundary.
This mobile app benefits both construction managers and field employees. From a manager perspective, the app offers transparency. Managers can see the work as it is happening and take action much earlier if problems arise. Another benefit for managers is data collection. The app allows for the contractor to collect data faster than with a paper process. It also gives the contractor the speed to collect more data during a workday.
For field workers, the app provides easy access to information that helps them do their job and eliminates waiting time when approvals are needed to move forward with work. Plus, the app eliminates the amount of paperwork employees have to fill out as well.
App features:
Fully interactive
Works offline
Integrates to a back office system
Maintain service level agreements with accurate information captured in the field
Dispatch assignments to the available staff and equipment
Improve job response time with optimized and automated scheduling
Streamlined field data collection
Field workers can self-schedule emergency or impromptu work
Receive info for the best route to a job and approximate site arrival time with historic traffic consideration
Turn-by-turn navigation
Multiple language settings