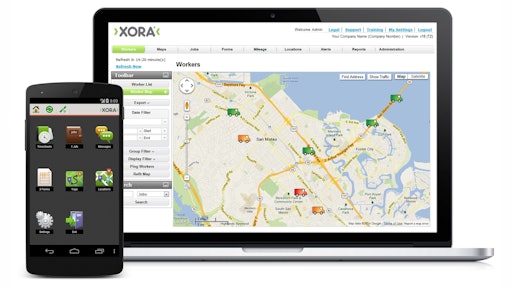 Mobile app: StreetSmart
Developer: Xora, Inc.
Cost: Free with StreetSmart License
Available on: Apple and Android devices
The StreetSmart mobile app is a configurable cloud-based application that helps businesses and their field employees by turning any mobile device into a data collection tool. As long as the user has a current license to Xora StreetSmart (offered on a monthly basis for roughly $1 per day per user) and the mobile app, they can collect location, time and job information from the field and then turn it into actionable information that can help mobile employees meet productivity and service goals.
Users of the app say StreetSmart has helped them create better bond and foster higher levels of trust with customers, according to developer Xora, Inc. StreetSmart provides contractors with more accurate segmentation of billable versus non-billable time, which also helps customers know they are not being overcharged.
The mobile app can be used to create electronic timesheets, custom forms and invoices. In addition, the app can capture photos, electronic signatures and barcode scans. With ability for employees to clock in and out of jobsites from their mobile phones, managers can use that data to compare historical GPS data against the electronic timecards to check for discrepancies.
Video: How a Field Tech Uses Xora StreetSmart Mobile App
Managers can use the web-based application to view employees' locations on a map, assign jobs, set up alerts and create reports.
According to the developer, all job data gets collected and stored in an easy-to-access repository. Contractors can use this data for more accurate job proposals or compare with historical data to see how project teams are doing.
App features:
Integrate with applications used for payroll, accounting and other back office systems
Transmit collected data back to the office in real time
Record shift and break start/stop times
Communicate job receipt, start and completion status
Use easy forms to capture job details, inventory, invoices or any other type of information
View and navigate to customer locations with Apple Maps
Customize job templates for your industry
Automatically capture mileage information from workers' phones
Send messages to mobile employees
Create and receive instant alerts on any criteria
Configure and run reports to assess operational performance
Schedule daily, weekly or monthly reports for delivery to your email
Automate timecard data and send to your payroll system