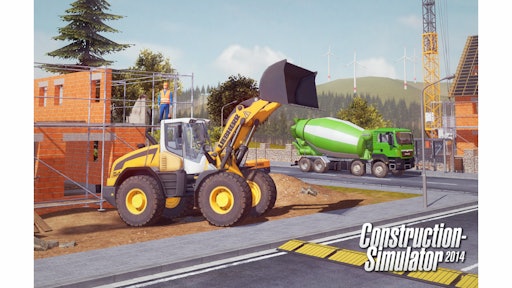 While it may not be designed for actual training, the Construction Simulator 2014 game might be a new way to get a younger generation interested in the construction industry. With the Construction Simulator 2014, the user plays the part of a construction engineer. The player is given control of various real-world construction vehicles and given tasks to complete for each project. The game offers more than 300 tasks for the user to complete such as excavating a foundation, operating a concrete pump to fill formwork, placing roof trusses with a mobile crane and more.
Review: Construction Simulator 2014
The game also offers different construction sites such as a wind farm, swimming pool, school building or town hall. As you complete tasks you earn game money which can be used to purchase more construction equipment (you start the game with only four machines) to complete more challenging tasks. The user also works his or her way up from apprentice to building tycoon.
Currently, Construction Simulator 2014 is available for iOS and Android smartphones and tablets for $1.29. Construction Simulator 2015 for PC and MAC is in development with a planned release in the third quarter of 2014.
What are your thoughts about a construction simulator video game?