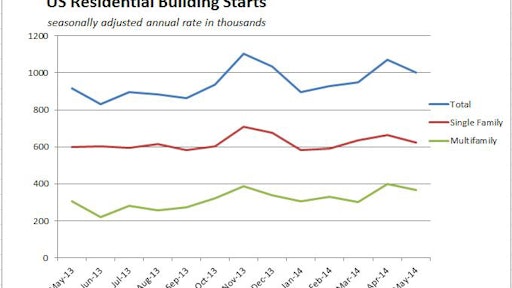 Declining single- and multifamily housing starts in May have been ringing some alarm bells since the government numbers were revealed Tuesday.
Most watchers know that one month doesn't make a trend, but so much conjecture about the severe winter slowing first-quarter construction growth has brought hyper focus on each new measure of industry production.
And it was a particularly rough May for housing. Total residential starts fell 6.5% to a seasonally adjusted annual rate of 1.001 million. Analysts had been expecting a 3.9% fall from April's hot figures to 1.03 million starts.
Single-family housing starts were down 5.9% and multifamily production fell 7.6%.
"The encouraging news is that single-family permits are up by almost 4%," said Chief Economist David Crowe, with the National Association of Home Builders (NAHB). "The modest increase is evidence that builders expect continued release of pent-up demand and a gradual expansion of the housing market. We are still forecasting a 12 percent increase in total housing starts for the year."
While an increase in single-family permits moves the needle in the right direction, the single-family permits pace is 4.0% below what we saw in November, and nearly 1% below May 2013's annual permit rate. In the decade before the 2005 building-permit peak for single family homes, the average pace was almost 1.3 million, 52% higher than May's rate.
Just before the May numbers were released – in its second-quarter 2014 construction outlook – FMI had slashed its growth expectations for 2014 residential construction by a third to 12%.
But it's important to note that FMI still expects housing to grow 12% this year – the same as NAHB's unchanged 2014 forecast. And the 1.001-million-start pace in May is, in fact, 11.6% above January's pace.
Multifamily housing has contributed disproportionate energy to this housing recovery, and continues to do so.
"Everybody wants more and better-paying jobs, and they will hold off buying a house if they're not feeling secure about the job they have," said Phil Warner, research consultant with FMI. He points out that more young people – those who would be first-time home buyers in more-secure economic times – are choosing to rent.
Competition for smaller homes with downsizing baby boomers is keeping home prices up, and still-conservative lending has made it harder for many people to qualify for mortgages.
Purchase mortgage applications are down 15% from May of 2013. And monthly mortgage originations hit a 14-year low in February.
Yet even with a drop from April's level, multifamily building permits in May are 19.2% above the year-ago level.
So while May's overall housing numbers aren't particularly encouraging, they remain in line with growth forecasts; some observers calling it a correction after starts overshot the pace of permits in April.
The most obvious change in the market dynamic is the shift toward multifamily primacy. Coming months will determine if it will be enough.
Another perspective: Epic Miss on Housing Starts is a Wake-Up Call