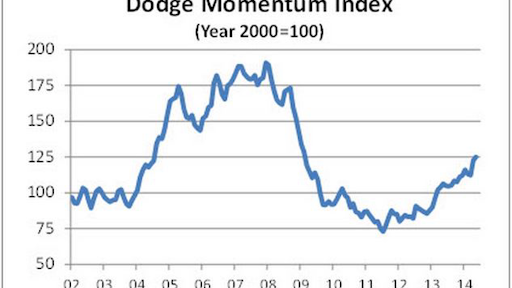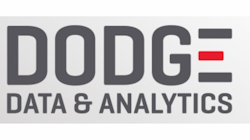 The Dodge Momentum Index gained 2.0% in May to 125.2 (conditions in 2000 set the baseline index at 100) following April's strong rebound.
According to  the Momentum Index, compiled by McGraw Hill Construction, is a monthly measure of the first (or initial) report for nonresidential building projects in planning, which have been shown to lead construction spending for nonresidential buildings by a full year. 
After weather-induced declines in February and March, the Momentum Index resumed its upward track. The index is now 17.6% higher than a year earlier. The growing volume of commercial and institutional projects at the planning stage and strengthening market fundamentals such as occupancy rates and rents suggest that nonresidential construction starts should be headed higher over the remainder of the year.
The May Momentum Index was bolstered by a 4.5% monthly gain in commercial planning projects, but the month's gain was held in check by a 1.3% decline in institutional plans. Among the largest commercial projects to enter planning in May were the $500 million Rainier Square Mixed Use tower in Seattle, WA, a $200 million commercial warehouse at Goodman Commerce Center in Eastvale, CA, and a $100 million office building for Overstock.com in Midvale, UT.  On the institutional side of the Momentum Index, the largest projects added over the month included a $200 million addition and modernization for Mount Sinai Medical Center in Queens, NY and the new $145 million St. Clair Commons Health/Quality of Life Campus in St. Clairsville, OH.