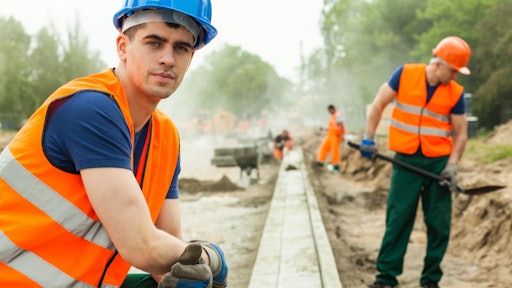 iStock
By: Mallorie Brodie, CEO of Bridgit
Generation Z — people born after 1996 — are now beginning to enter the workforce. In the U.S. alone there are 65 million Gen Zers, and this cohort is projected to make up 20% of the workforce in the coming months. With the influx of Gen Z into the job market, construction firms need to adapt recruiting strategies to attract Gen Z job seekers. Something that will serve them well, given 78% of firms have had difficulty finding skilled labor this year.
Five tips can help firms effectively recruit this next generation of talent.
 1. Start recruiting early
Career planning for Gen Z begins early. According to the Student Research Foundation's Career Pathways and 21st Century Skills Study, 72% of high school freshmen have already begun to consider their career pathway. To successfully interest Gen Z in construction industry careers, firms need to help educate students about career opportunities in the trades. As part of this effort, firms should attend high school career fairs and develop educational outreach programs aimed at teachers and guidance counselors that highlight the range of construction career opportunities as well as the financial benefits of working in skilled trades.
Read next: It's Time to Step Up Your Recruiting Game
2. Highlight career development
Gen Z gravitates toward career opportunities where they can develop and grow. A Robert Half survey found that 95% of Gen Z respondents named career advancement a top factor when choosing an employer. Ninety-one percent said professional development and training opportunities were another priority consideration when choosing an employer.
To successfully attract Gen Z talent construction firms should highlight how Gen Z job seekers can advance in their organizations — outlining career trajectories such as moving from entry-level apprentice to journeyman to lead man to foreman to general foreman to superintendent.
Construction companies should also focus their messaging to these job seekers on professional development, emphasizing ongoing training opportunities, mentorship programs, apprenticeships, and leadership skills programs designed to help employees move up the career ladder.
3.

Promote company social responsibility
Members of Gen Z are socially conscious and diverse. According to Deloitte, "to win the hearts of Generation Z, companies and employers will need to highlight their efforts to be good global citizens…Companies must demonstrate their commitment to a broader set of societal challenges such as sustainability, climate change and hunger."
Construction employers should make their commitment to corporate social responsibility known during the recruiting phase and beyond. Gen Zers want to find jobs that align with their personal values, giving serious consideration to opportunities with companies that are socially conscious and diverse.
Firms can engage Gen Z, tapping into their preference to work for socially responsible companies, by promoting philanthropic and community involvement activities such as volunteer programs, food drives, fundraising programs and other initiatives on their websites and on social media.
Discover more: [VIDEO] Corporate Social Responsibility Initiatives Can Aid Workforce Recruitment
4.

Use social media
Gen Zers are known as digital natives — they grew up with technology like smartphones, tablets and social media. Companies need to be where this cohort spends time, and that means online. Members of this generation will search for jobs online, making it important for firms to tailor their recruiting messages across social media platforms.
Construction firms should develop a social recruiting program that showcases positive company culture on LinkedIn, Twitter and Instagram, as well as in blog posts and YouTube videos. Companies can create social content geared toward recruiting and networking by featuring employee success stories, giving an inside look at the day-to-day at the company and promoting the benefits of working at the firm.
Read next: How Social Media is Attracting Younger Workers to Construction
5.

Use technology
Members of Gen Z grew up in an always-on environment and have an expectation that technology will play a role in their careers. While the construction industry has traditionally lagged in technology adoption, this is rapidly changing. Construction industry technology from BIM software to drones to wearables to virtual reality and 3D modeling technologies can attract Gen Z job seekers and increase their interest in construction jobs. Firms should not only showcase the specific technologies they use but illustrate how these technologies improve worker safety and productivity.
As Gen Z begins to enter the workforce, construction firms will need to adapt recruiting strategies to attract the next generation of talent. Connecting with this generation early to educate them on the value of opportunities in the construction industry, highlighting career development programs, promoting the company's social responsibility activities, using social media to engage this demographic and showcasing industry technology are all ways firms can draw this cohort to the construction industry and help combat the labor shortage.