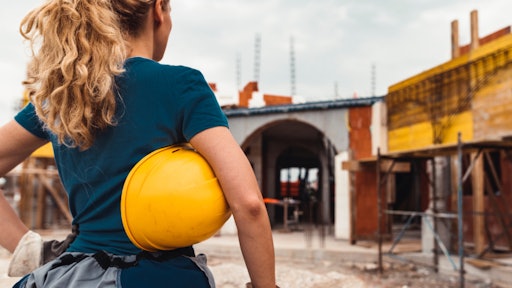 Procore
According to a McKinsey Global Institute report, the construction industry represents roughly 13% of the global gross domestic product (GDP) and employs approximately 7% of the world's working age population. Yet, a persistent challenge remains in its ability to find and hire talent. Traditional methods, largely dependent on word of mouth referrals, have proven largely ineffective and made hiring challenging for employers and finding employment that matches their skills difficult for workers.
Fortunately, three recently introduced digital platforms geared specifically to the construction workforce are seeking to change that.
Based in Community
Construction workers are a unique collection of individuals with a very special set of skills. Because of this, traditional platforms for interacting with peers or seeking employment haven't always proven a good fit. They aren't as conducive to how many of those working in the industry like to interact or to the highly visual nature of the work they perform. So, up to this point, the industry has remained largely disconnected.
"There's this huge demographic of hardworking folks in this country and beyond who simply don't have a professional platform the way most other folks do," says Peter Maglathlin, CFO, Trade Hounds. "The way that manifests itself as a problem is: If they don't have a professional identity online, they can't be discovered. Therefore, the labor market in construction is hugely inefficient."
Trade Hounds hopes to address this using a community-based approach. "We wanted to create a community-based product that workers inherently want to use on a habitual basis that will accrue value to them over the course of their entire career," Maglathlin states. "[You] don't just use it when you're looking for a job, but use it intermittently over the course of your career to connect with folks to showcase your work, etc."
Thus far, the most common application for the app is to showcase work on projects. But it's set to branch into other areas.
"What's really exciting is we're now moving into a world where workers can source jobs in the platform, which was always the original vision," Maglathlin says. "We wanted to provide them a safe space where they belonged, but also provide them the opportunity to showcase their work with a purpose to find that next job — to find a better paying job."
Click here to learn more about the Trade Hounds app, and investor Suffolk Technology, an internal venture capital arm established by Boston-based Suffolk Construction.
Fostering Connections
Trade Hounds isn't alone in its mission to connect construction workers and employers. This past July, Procore launched its Construction Career Board as an industry-specific resource to recruit talent and find job opportunities. Developed in partnership with Arcoro, a provider of human resources management software to the industry, the online platform allows employers to publish job opportunities for free while giving jobseekers the ability to upload their resumes and search open positions.
"Construction has been greatly impacted by the pandemic and Procore wants to support the industry as best we can," says Tooey Courtemanche, CEO. "Our new Construction Career Board leverages our network to connect people looking for work with those who are hiring."
Using the online platform, employers can automate their recruiting processes by posting jobs and receiving email applications from interested candidates. Jobs posted to the Construction Career Board can be automatically distributed to careers sites including BirdDogJobs, Glassdoor and Indeed.
Jobseekers can upload their updated resumes to the Construction Career Board and begin searching for job opportunities that complement their skill sets. Users can opt into job alerts via email that are organized by role, location and more.
"As construction organizations reset and prepare to bring on new employees, the Construction Career Board offers a unique focus to the industry that helps organizations hire skilled workers fast," says John O'Hara, Arcoro CEO.
Click here to learn more.
Getting to the Core of the Problem
Another recent entry into the construction labor marketplace is Core. Launched in September, it leverages digital technology to provide workers with tools to find better paying jobs and ease the stress associated with the job search.
Co-founded by serial entrepreneur and angel investor, Di-Ann Eisnor, formerly of Waze (Google), Core matches construction/trade workers with general contractors, subcontractors and related companies. It is designed as a "bridge" between employees and employers, blending technology with human engagement via its "Global People Team" to scale referrals, deploy talent and grow careers.
Eisnor was born into a family of tradespeople and truckers. She says she launched Core with the mission of serving the workers she grew up with and helping an industry rife with labor problems.
"Silicon Valley needs… to work with the industry to support the trades. We need technology to serve workers, enhance our strength and speed and keep us safer," she stated upon Core's launch. "The construction industry certainly doesn't need us to tell them how to do their work better, but they do want tools. This industry is teeming with innovation and excitement, and the time is now."
"Men and women working in the traditional trades have a rich history, yet they are an underserved community that deserves better access to career mobility and growth. Core brings them online, creates a virtuous cycle between employers and employees, and connects them to training that expands their skills, capacities and opportunities," said Caterina Fake, investor at Yes VC, co-founder of Flickr, and a Core investor.
"Practical skills assessment and matching talent to tasks has long been a critical challenge in our industry," says Mike O'Brien, senior vice president, Turner Construction. "We welcome Core's offering of significantly improving the process."
Click here to learn more.  
Newest Board on the Block
The latest entrant into the construction jobs marketplace is TraLaMa – the Trade Labor Marketplace, which was announced in mid-December. Jason Goldberg, founder and CEO of America's Floor Source, says he spent years dealing with the same  challenge facing most employers in and around the construction industry — finding enough reliable tradespeople. So, he chose to launch an online community where businesses find skilled trade labor, and where skilled trade laborers find full-time employment or short-term work.
"While we've always had a strong stable of subcontract and employee installers, it's been work to make sure we have enough reliable, skilled installers when we need them," Goldberg explains. "As I've talked with other business owners, it's obvious this is a challenge for almost everyone in residential and commercial construction. 
"It's no easier for the workers," he continues. "Even the best laborers have unwanted schedule gaps. And even worse is when they've blocked out days to do a job that suddenly falls through or is delayed at the last minute. What are they supposed to do for those days that are suddenly empty? They have this constant stress, even when there's a shortage of reliable, skilled tradespeople."
Using the TraLaMa app or TraLaMa.com, trade laborers can create a free account, build their profile and then browse and respond to open posts. Businesses can use the app or website to create an account, post full-time or one-time job openings, choose from available laborers and hire one or more workers.
TraLaMa launched as a beta version in early 2020, primarily within the flooring industry. It is now launching to all industries and markets and includes 28 trade skills categories and 36 business types.
Click here to learn more.