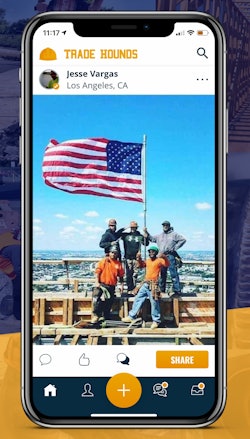 Trade Hounds
Construction workers are a unique collection of individuals with a very special set of skills. Because of this, traditional platforms for interacting with peers or seeking employment haven't always proven a good fit. They aren't as conducive to how many of those working in the industry like to interact or to the highly visual nature of the work they perform. So, up to this point, the industry has remained largely disconnected.
"There's this huge demographic of hardworking folks in this country and beyond who simply don't have a professional platform the way most other folks do," says Peter Maglathlin, CFO, Trade Hounds. "The way that manifests itself as a problem is: If they don't have a professional identity online, they can't be discovered. Therefore, the labor market in construction is hugely inefficient."
Trade Hounds seeks to change that. The platform is the brainchild of David Broomhead, CEO, who grew up in a family of tradespeople in Australia before moving to the U.S. He saw firsthand that those working in construction were a unique group with a different culture, language and communication habits, who needed a dedicated platform to serve them professionally.
Maglathlin was already a veteran of a successful startup when he joined Broomhead and Jon Clark, CTO, to found Trade Hounds, a platform exclusively targeted to commercial tradespeople. He quickly recognized the concept's potential.
"I was really compelled by the opportunity," he says, "not only from a commercial perspective, but also the opportunity to really improve the lives of millions of people across the country who are highly skilled, really hard working, big contributors to the economy, but [who] weren't offered the same sort of technology applications that most other folks were."
Creating a Community
The trio of founders aligned around the need to improve the efficiency of the construction labor market. But they didn't want to create just another job board that workers engage with infrequently.
"We wanted to create a community-based product that workers inherently want to use on a habitual basis that will accrue value to them over the course of their entire career," Maglathlin states. "[You] don't just use it when you're looking for a job, but use it intermittently over the course of your career to connect with folks to showcase your work, etc."
To deliver this, the founders knew the platform had to be accessible via a mobile device due to the on-site nature of the workforce and work, and that it had to be video and image focused. "When you think about construction workers, they're far more visual," says Maglathlin. "It's far more compelling for a carpenter, welder, plumber to showcase their skill sets through video and imagery."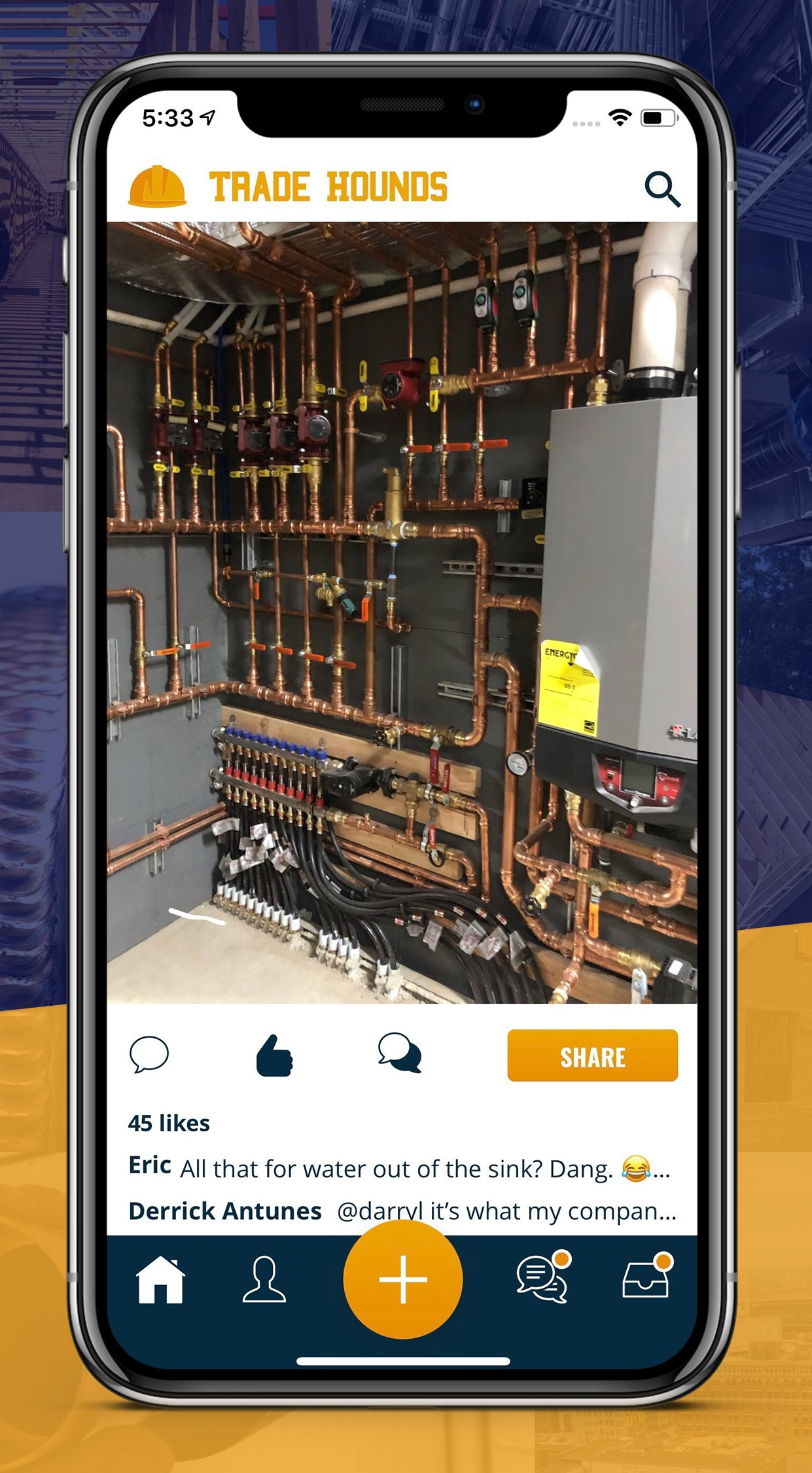 The app provides a visual platform for workers to share and be recognized for their work.Trade HoundsThe platform also needed to be specific to the construction workforce. "We felt everything from the branding to the functionality really needed to speak to the specific type of worker," says Maglathlin.
They apparently met these objectives. Since the Trade Hounds mobile app launched in 2019, it has grown to nearly 200,000 users. "The response from the worker market has exceeded our expections," says Maglathlin. "There's clearly latent demand for something like this."
Thus far, the most common application for the app is to showcase work on projects. "Many of the skilled tradespeople across the country are proud of what they do, but they've never been given the appropriate forum through which to showcase it," Maglathlin points out. "When you think about how they use Facebook or Instagram, those are primarily social platforms. Their networks are vast.
"On Trade Hounds, it's abundantly clear when you enter the application that this is meant for tradespeople and it's meant to talk about work," he continues. "So, you have workers across the country showcasing the work that they're most proud of, seeking advice, getting feedback and, importantly, connecting with each other."
A Professional Investment
The value proposition for Trade Hounds up to this point has been in providing a place for users to showcase their work, make connections and develop a professional identity.
"What's really exciting is we're now moving into a world where workers can source jobs in the platform, which was always the original vision," Maglathlin says. "We wanted to provide them a safe space where they belonged, but also provide them the opportunity to showcase their work with a purpose to find that next job — to find a better paying job."
To further this, Trade Hounds raised $3.2 million in a seed funding round led by seed-stage venture capital firms Alpaca VC and Brick and Mortar Ventures, both of which have experience investing in construction technology startups. "For the first time ever, really, you have venture capital firms and you have deep pockets really interested in innovation that's happening in construction," Maglathlin comments. "It is one of the final frontiers of innovation, and there's plenty of room for innovation in the industry."
Also among the investors was Suffolk Technology, an internal venture capital arm established by Boston-based Suffolk Construction to invest in innovative technology startups that can help propel the construction industry forward. When Trade Hounds came to its attention, Suffolk Technology did some extensive research on both the application and labor staffing in general.
Users can chat back and forth with other tradespeople to share insights and improve their craft.Trade Hounds"Part of why we're very interested in Trade Hounds is because there's a massive labor shortage in the industry for both skilled and unskilled labor," says Raja Ghawi, investment associate, Suffolk Technology. "We spoke to our teammates who do recruiting and manage workers on site, and we heard some very painful stories."
Suffolk Technology also observed a trend in specialized networks dedicated to certain industry sectors, for example, the medical profession. "There is this macro tech trend that if you are within a large enough profession, you have a social network dedicated to your profession to meet its needs," Ghawi notes. "If you look at construction, there is no such network just yet.
"It's a very visual industry," he continues, noting the popularity of posting images on Instagram. "It's a very proud industry. People love to do good work and talk about it. So, Trade Hounds' approach made a lot of sense... People are looking for jobs. We're looking for workers. Let's do it."
But Suffolk Technology didn't just invest in Trade Hounds. It is also helping it in its next stage of development by opening up the company's jobsites and allowing Trade Hounds' founders to interact with workers and extend invitations to join the app.
Listen to Podcast: Suffolk Technology Partners with Trade Hounds on Construction Workforce Platform
Job Board and Beyond
Trade Hounds has since begun closed beta testing of its job board. Several employers are now actively engaging with workers and hiring them using the platform.
"It's really a natural extension of the platform because it's so professional in nature and all the content and conversation on there is about work," says Maglathlin. "Our thesis is that if you capture the worker, if you bring all of them together, then that's really how you win because they're the scare asset... Everyone's trying to find the worker when they're in a professional mind set.
"Not making it transactional from the beginning I think allowed us to scale up the worker side of the platform and make it feel like it was their own user-generated content, really authentic," he adds, "which has borne out to be true, fortunately."
Thus far, the results from the beta testing have been very encouraging, and there are plans to continue to grow the organization and eventually roll the job board out to different markets across the U.S. "We're very excited about how we can help them succeed in those local markets, especially ones we operate in," says Ghawi.
"Looking even beyond that, I think the opportunities are endless for Trade Hounds," he continues. "You have a database of all the workers they're managing, basically proof of work, the quality of their labor — why not help them manage their training certificates, their affiliations? If you have all that data, maybe you can help them with onboarding onto the site so they can get straight to work. The list goes on and on."
Maglathlin agrees. "There's so much opportunity above and beyond jobs when you think about it. We're approached by brands in the industry all the time, whether it's tool companies, coffee companies, truck companies, because they want access to these types of people when they're thinking about work. What better time to start to sell a person a drill, or a truck or even a deal on coffee than when they're on the jobsite looking at Trade Hounds?," he asks. "And so, again, it's all about building out the community, making sure that experience is great and then layering in other stakeholders in a way that hopefully adds value to the workers' lives."