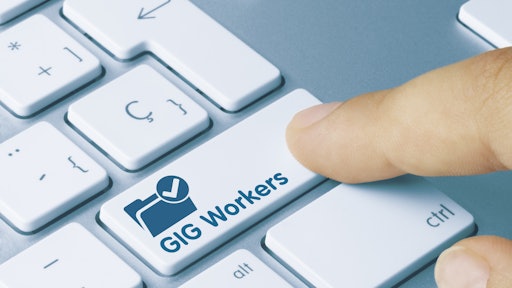 Adobe Photoshop | momius
The industry has recognized labor shortages for some time. Contractors continue to try a variety of often, outside-the-box approaches to bring in quality workers to add to or replace members of their crews. Employee turnover, mid-season could delay project completion or worse, hinder company growth. Fluctuations in employees can make hiring temporary labor a viable option, especially during the busy season.
"Supplementing your workforce with temporary workers can help improve productivity and provide instant access to potential talent with specialized skills you may not have access to otherwise, but it can also help you save money during your slower times by maintaining staffing flexibility and reducing overhead," says Mitch Catino, chief operating officer of GigSmart.
Temporary or gig workers are hired differently than the employees you personally recruit. These workers are recruited for your company by staffing agencies or through websites and apps. No matter the mode of hire, temporary employees have benefits that may help you continue to move the needle on job completion.
Increase Productivity
When employees use their bodies and mental expertise to complete quality jobs, they can understandably become exhausted and unmotivated, but this doesn't have to be the case.
"By supplementing your crew with flexible labor, you can offer a more 'hands-on deck' approach to get projects done to completion on time or even ahead of schedule," says Catino. "With an agile crew, you can take on new projects, expand your business operations, save more money, beat deadlines and better satisfy the job requirements."
Temporary workers can offer the support a company needs on either a short-term or long-term basis. Bring in these types of workers when someone calls in or if a crew member needs to be off due to an emergency. In most cases, when you hire temp workers, you can expect the workers to perform several different functions for you and offer advantages in terms of operations, depending on their knowledge base.
Utilizing temporary labor gives a company a way to leverage specialized workers for short-term work. Instead of sourcing the expertise or specialized equipment required to complete the job, save overhead by requiring what is needed as a pre-requisite for your next temp hire.
Mobile Apps and Platforms
Posting your job opening in multiple places will increase your candidate pool and there are many platforms and mobile apps businesses can utilize to hire qualified talent. However, not every platform specialized in construction, thus receiving applicants that don't even pertain to the job you are hiring for.
"GigSmart was founded to connect anyone who was looking for labor to those looking for work," says Catino. "We want to create a solution that connected employers with available workers across a variety of skills and industries. We wanted to reduce the friction around making this connection, connecting employers with the largest pool of available workers."
GigSmart created an app called Get Workers where companies looking to hire can create an account, add details about the business, post temporary shift or full and part time positions from which qualified local workers can apply and then review and select vetted applicants to get the work done. 
"Get Workers gives you the ability to set the hourly pay rate, choose which skills you need to hire for, review the applicants and hire, manage and pay them all within the app," says Catino. "We give you more control over your hiring process while making it easy and affordable for you, the employer."
Social media can also be an effective way to get the word out about your demand for workers and to engage with prospective employees. Business owners can use these platforms to provide potential employees a look inside your company by using engaging photos, videos and other content. Use captions to highlight your benefits and career opportunities. Current employees may share your company employment opportunities with their friends, family members and neighbors looking for work.
Be mindful of your pool of applicants and how they are browsing job listings. Just because you, as an owner or hiring manager, use a laptop or desktop computer everyday doesn't necessarily mean candidates are browsing the same way. They use mobile-technology apps and platforms to do research, especially the younger generations. Deliver your "now hiring" messaging across multiple platforms to create a larger pool of applicants.
Are Temporary Workers Right for Your Company?
When it comes to deciding if hiring temporary workers is right for your company, weigh out the positives and negatives. In some cases, gig-based hiring can remove much of the recruitment costs, time and human resources processes. If a temporary worker doesn't fit well with your crew, you aren't obligated to hire them back. On the other hand, temp workers may not be as motivated or engaged as full-time employees because they are completing a task, not serving as part of a broader company mission.
Company size also plays a factor in the decision. If you are a smaller company, where many people wear multiple hats in order to fill customer needs, gig workers might be for you. Being able to hire depending on niche projects can instill confidence in the oversight coming from the foreman on the job.
Catino added, "when searching for temporary labor, it is important to be clear about the expectations for the job, select an appropriate pay rate, make sure adequate training is provided and treat them the same as you would a full-time employee to maximize your hiring success."