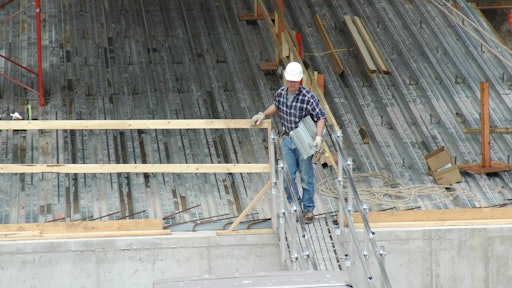 ACBM staff
Though the construction industry has yet to fully recover from the pandemic's impacts, a common theme has re-emerged. Skilled labor is once again in short supply and there is an expectation that the shortage will steadily worsen if construction's recovery accelerates in the coming months as anticipated.
In a just released announcement, the U.S. Chamber of Commerce Commercial Construction (Index) for Q2 2021 reported 88% of survey respondents were having moderate to high levels of difficulty finding skilled workers, with nearly half of those showing a high level of difficulty. Of those having problems filling skills needs, over a third (35%) had been forced to turn down work as a result.
There are other common labor-related challenges contractors continue to face, one of which is how to best address the cyclical and often uncertain nature of their business. Workforce demands and skillset needs can vary — in some cases, substantially — from job to job, and the ability to staff up or down accordingly can be a struggle.
Advantages of Gig Workers
Interestingly, we're seeing new business platforms emerge within the construction space targeted to help address both the skills gap and labor shortage within specific industry segments. Service firms have arisen that supply trained temporary, or gig, workers to industries such as construction on an as-needed basis.
One such company is GigSmart. In the article "How Hiring Gig Workers Can Help Your Concrete Business in 2021", Jenay Sellers, director of marketing, in noting the benefits of a gig economy, asserts, "Not only can supplementing your workforce with temporary workers give you access to potential talent with skills you may not have access to otherwise, but it might also help you save money during your slower times."
According to Sellers, the opportunities of the "gig economy" include the ability to:
improve productivity and reduce stress on your full-time staff
scale your crew based on the demands of each project
leverage specialized expertise
test out workers prior to hiring
and reduce overhead costs in a still unstable economy
"Instead of staffing up your crew, you can save money (and overhead) by staffing with temporary workers, bringing on workers only when they're needed," she writes. "By doing so, you can quickly scale crews based on your project needs and cut costs on recruiting, hiring, and training."
More Skills Available Than You Think
Certainly, not every skill set required on a jobsite is available via temp services. But you may be surprised at those that are.
For example, the company YellowBird offers an "Uber-like" digital platform designed to help fill temporary staffing needs for environmental health and safety (EHS) professionals. All of the consultants in its network are carefully vetted, insured and matched to the job based on your spec requirements. They can be brought to the site for as long or as little time as needed based on the assignment or project demands.
Given the widespread awareness of labor issues in the industry, and the ongoing proliferation of startups in the contech space, it's easy to assume we'll see more such service providers emerge targeting other common skill sets required on construction projects. Yet, gig workers cannot solve all the industry's problems when it comes to filling gaps in the workforce. What they can do is serve, in a pinch, as one more tool in your arsenal to reduce the risk of having to walk away from a project because of insufficient or inadequate staffing.
Companies in this article