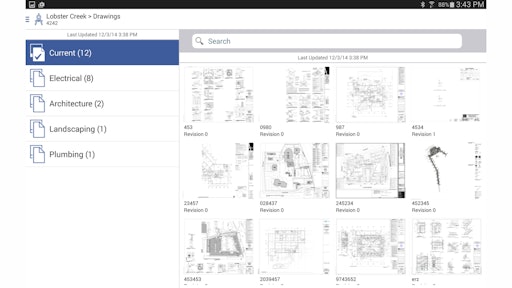 Mobile app: Procore Construction Management Software
Developer: Procore Technologies, Inc.
Cost: Free for registered users
Available on: Apple and Android devices
Designed for general contractors, managers, specialty contractors and project owners, the Procore mobile app allows users to create, manage and share project data remotely.
Video: How the Procore Mobile App Brings Cloud-Based Construction Software to the Jobsite
With the mobile app, users can work offline and then all the information in the Procore mobile app instantly syncs when back online. Also, changes made using the mobile app and a mobile device are instantly synced with the user's Procore project data on the web application.
App features:
Mange drawings, documents, photos, RFIs, daily logs, submittals, punch lists, project contact directories, timecards and more
Mark up drawings and attach punch items, sketches and RFIs to drawings
Create, manage, assign and close punch list items
Add daily log entries
Take meeting minutes
Dictate notes to punch list and daily log items
Capture, view and share project photos with automatic timestamps
Log timecard entries from the field
Access project contacts without adding data to the phone's address book
Share project contacts via email
View or print project documents stored in the most common formats including PDFs, Word docs, Excel spreadsheets and text files
Drawing Comparison tool lets user compare current project drawing versions against revisions
Companies in this article