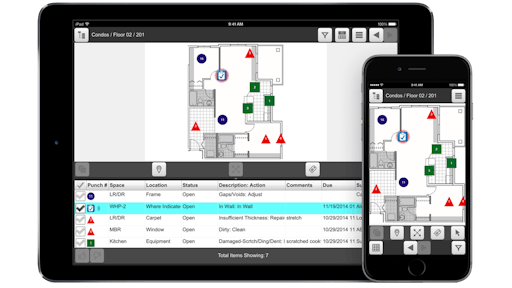 Mobile app: FinishLine Pro
Developer: Active3DB, LLC
Cost: Free as a companion to FinishLine Punch List Management Software
Available on: Apple, Android and Windows devices
FinishLine Pro is a construction list management mobile app for both tablets and smartphones as well as desktop and laptop computers. FinishLine can be used on both large and small construction projects. While the mobile app can be used as a standalone app, users can only access the app if they have login privileges for FinishLine software. The user friendly app means contractors don't have to be tech gurus to use it.
FinishLine Pro can be used to manage punch lists, QA/QC, safety, warranties, completion lists and field observations. 
Pricing for FinishLine List Management is dependent on project size, as the application is customized to each construction project. Pricing includes license for unlimited users for the life of the project, complete setup, hosting and support for one year, and training for both staff and admins. 
Video: What is FinishLine Punch List Management Software
FinishLine has a flexible checklist feature for QA/QC functions like Pre-Cover and Pre-Pour inspection. Each individual list item can be assigned as the responsibility of a particular party. The app then notifies those parties of items needing to be fixed before they can be checked off. With FinishLine Pro, every checklist item is a separate record in the FinishLine database that is searchable, filterable and reportable. Checklists can also capture additional information including comments, quantities, costs, list boxes, user defined fields and more.
Video: FinishLine Construction List Management Software for Smartphones
According to the FinishLine website, FinishLine users have experienced 30 percent to 40 percent reduction in inspection time, 98 percent reduction in time to distribute information, 65 percent reduction in re-inspection time and 75 percent reduction in time spent coordinating between parties.  
 App features:
Can be used by all project partners for a unified approach with common terminology
Reduce time between an inspection and notification of responsible party; speed up resolution of issues
"Inspect on the plan technology" lets user enter punch list items with a touch of the screen
Distribute reports via email
Incorporates easily identifiable icons to mark safety problems
Allow owners/operators into FinishLine to report issues that arise
Warranty checklist enables user to track various types of information and use it as a backup record
Document issues with photos and annotations on the plan
On screen signature capture
Load multiple projects
All plan views, photos, attachments and items added are synced with FinishLine servers for access from any device
Hot spots help navigate between areas of a project
Zoom in and out using gestures
Add comments to list items
Set function permissions