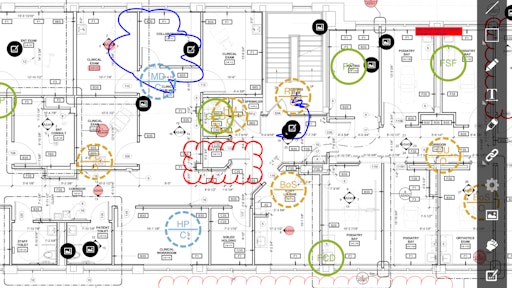 Updated: October 2015
Mobile app: SKYSITE
Developer: ARC Document Solutions
Cost: Pricing varies per number of users
Available on: Apple, Android and Windows devices
Developed with the construction industry in mind, cloud-based SKYSITE is a comprehensive document and management platform that provides document access and distribution.
SKYSITE allows users access to view, manage, distribute and collaborate on construction documents in real time. The platform lets anyone view, store, manage, search and distribute documents for collaboration purposes.
In October 2015, ARC Document Solutions released SKYSITE 2.0, which includes new features such as Request-for-Information (RFI) administration, photo management and punch lists. 
The RFI feature means team members receive information as it is issued and can make fast decisions to mitigate risk to project timelines and budgets. Users get real-time RFI changes and status updates. Specs, plans and other documents can be linked to any RFI, and an RFI cover can be complied with all attachments into one PDF file.
The photo management feature allows SKYSITE 2.0 users to take and tag photos and collect them in a single, common project directory accessible on any mobile device. 
The punch list feature allows users to track lists of project issues and tasks in one common directory. Issues can be captured in real time and teams can monitor punch list due dates directly from SKYSITE 2.0. Users can also assign responsibility to appropriate team members and track an issue's status. Photos and voice memos can also be uploaded and linked to punch list items.
Video: SKYSITE Mobile App Helps Construction Contractors Collaborate in Real Time
"SKYSITE is designed with three major components: desktop app, sync and mobile app," says Kerman Kasad, Senior Director of Worldwide Product Marketing & Communications at ARC Document Solutions. "SKYSITE is a solution where mobility is central. As projects become multi-locational, multi-geo access to the construction document and information from anywhere, anyplace and with any device is fundamental. SKYSITE mobile plays a very important role in enhancing project members' productivity and efficiency to deliver a project on time and within budget guidance."
 App features:
Create, respond and close RFI right from the mobile device
Link RFI to a specific sheet or spec section or create RFI from a project level
Create, complete and respond to punch list items
Link punch list items to a specific sheet 
Easily identify status and overdue RFIs or punch list items
Take photos from the SKYSITE app or upload from a mobile device's photo gallery
Add text data to photos for searching
Single source file sharing
Supports major construction document file formats
Real-time synchronization of specific documents or entire folders/directories
Download folders and files automatically or at will even without an Internet connection
Capture and share real-time changes with real-time mark-up
Real-time project activity tracker delivers complete user analytics
Generate reports for each document shared, downloaded, deleted, distributed and marked up by any participants
Customize reports on a daily, weekly or monthly basis or for a certain period
Reports are shareable
Multi-layered password security option to distinguish from common confidential folders and projects
User access and permission management
Search for documents and filter by standard or custom attributes such as review status, revision number, etc.