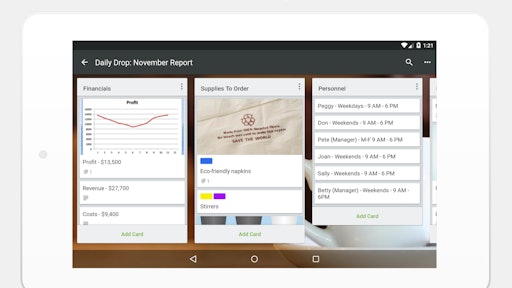 Mobile app: Trello
Developer: Trello, Inc.
Cost:  Free
Available on: Apple and Android devices
Need to get organized? The Trello mobile app is a "free, flexible and visual way to organize anything with anyone." Construction contractors can use the app to help delegate and track tasks among team members.
The Trello app can be thought of like an electronic whiteboard where users can create and organize lists of what needs to be done, who's doing what and what is next.
The app uses Trello cards to record all ideas or content. Cards can be arranged into lists on the Trello board. Trello cards can include checklists, comments, avatars and attachments of photos, videos, PDFs and more.
In addition to the app, every Trello board is assigned a special email address that can be used to create cards and comment via email. Trello will also upload attachments to send with the cards. Users can also receive notifications via email and then reply through email without needing to open the Trello app.
The goal of the Trello mobile app is to keep organization simple, but for users who want more features the app offers Power-Ups. These include a calendar, voting and card aging (seeing which cards haven't gotten any attention recently) options that can be turned on or off.
If the free version isn't enough for your construction business, Trello also offers the Trello Business Class version at $8.33 per user per month paid annually. Trello Business Class is a shared space for teams to collaborate, communicate and share information in a business focused app environment.
Trello Business Class integrates with other tools including Salesforce, Slack, Github, Google Drive, Evernote, Box and more.
Trello Business Class also features more advanced administrative controls to keep sensitive information private and secure. The business-focused app allows users to grant observer-only access to collaborators outside of your team as well as restrict member inviations and board visibility. Plus, contractors can deactivate former members without losing any history of their work in Trello.
App features:
Unlimited board members
All content is synced and saved instantly to the cloud
Invite others to work collaboratively on your Trello boards
Assign tasks to coworkers
Reorder lists as needed
Drag and drop cards from one list to another
Real-time updates
Post comments for instant feedback
Upload files from a computer, Google Drive, Dropbox, Box and OneDrive
Add checklists, labels, due dates and more
Set notifications for important items
Supports Apple Watch