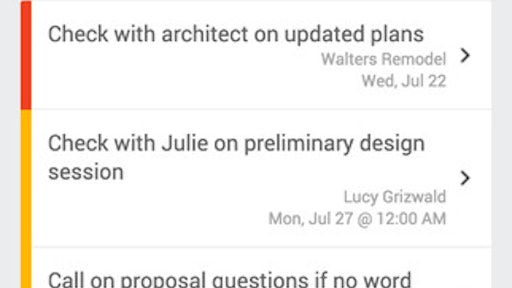 Mobile app: CoConstruct
Developer: CoConstruct
Cost: Free with purchased plan
Available on: Apple and Android devices
CoConstruct is a project management mobile app that helps contractors manage clients, projects and budgets through every stage of a project's lifecycle.
The CoConstruct mobile app includes bid management, cost management and labor management tools. You can review key information on all of your projects from a single dashboard. Plus, the app's message board lets the contractor, subcontractors and clients post straight from their email accounts to help eliminate complicated email trails.
CoConstruct users can build an entire project proposal for free. This includes bids, specification and cost estimates. When the full proposal is ready, CoConstruct can extract all the information into a Word document that can then be sent to the client. Or, invite the client to login to the CoConstruct system and view the proposal there.
When clients log into the system, they receive a progress report with any recent photos that have been added, a financial overview of the project's budge, and alerts or requests that need their attention.
CoConstruct mobile app is free with the purchase of a CoConstruct plan. There are currently six plan tiers depending on the number of projects the user is managing. The lowest priced plan is $99 per month for one project. The highest priced plan is $299 per month for nine to 12 active projects. CoConstruct users with more than three active projects in CoConstruct can use the mobile app to manage an unlimited number of "no client" projects.
App features:
Create project estimates and proposals
Invite and manage bids from subcontractors
Store plans and specifications
Track project costs
Schedule and manage jobs on the worksite
Create and manage change orders
Manage punch list items
Jobsite logs
Cross-project task lists
Click-to-call contacts
Integrates with QuickBooks, Xero and Facebook