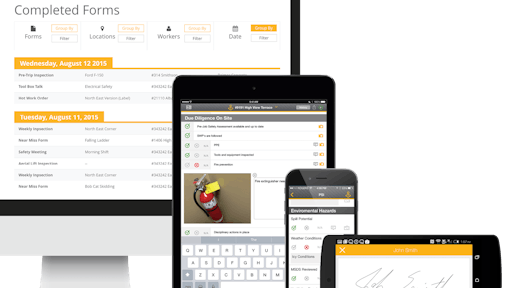 Mobile app: SiteDocs
Developer: SiteDocs Safety Corp.
Cost: Annual pricing based on company size
Available on: Apple and Android devices and the Web
SiteDocs is a complete cloud-based paperless safety management system that allows you to manage your entire safety program from mobile apps and the Web.
SiteDocs features a custom form builder and the ability to upload all your safety documents for reference on site. Users can have instant access to company safety manuals and other safety documents such as safe work practices, MSDS sheets, safe job procedures, company policies and more.
[VIDEO] SiteDocs Mobile App Product Demo
SiteDoc users can complete forms, add photos and sign their name right on the device. Signed forms are instantly uploaded to your account and available at the head office. At the head office, safety managers can monitor safety activity across all jobsites in real time and quickly search through all their previously signed documents with just a few clicks.
"Through the use of SiteDocs, we are able to collect endless amounts of worksite data for generating insightful safety reports," says Erick Forshee of Fisher Contracting Company — recently selected as one of America's safest companies. "This reporting data plays an integral role in the development of our Safety Policies and the methods we use to conduct business on a worksite. This, in turn, has significantly reduced workplace injuries. I cannot stress enough the importance of SiteDocs to the success of our safety program."
(Read more SiteDocs testimonials…)
App features:
Build custom forms
Upload all company safety documents
Track worker certifications and even get notified when they are coming due for renewal
Monitor safety in real time
Signatures are automatically time stamped
Add photos to prove corrective action was taken, document an injury or more
Update forms and documents online; jobsites automatically get the latest version
Forms are automatically grouped by project and sorted by date or form type
Usable without an Internet connection; automatically syncs forms once reconnected to a network
Email or text notifications when forms are filled out