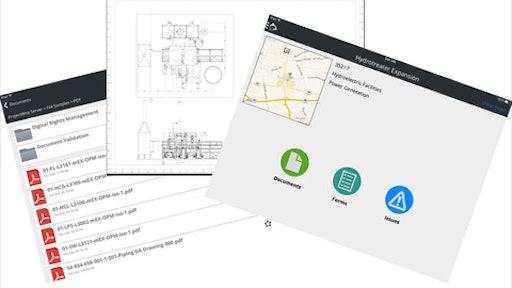 Mobile app: ProjectWise WorkSite
Developer: Bentley Systems, Inc.
Cost: Free with Bentley CONNECTIONS Passport
Available on: Apple, Android and Windows devices
Bentley's ProjectWise WorkSite mobile app provides construction field workers with views into multiple project data for up-to-date, rich project information to seamlessly continue workflows while on the go. Role-specific, personalized views ensure real-time decisions can be made using the most current and relevant information. 
Field workers have access to multiple project repositories so they can easily search documents or create favorites for easy online or offline control. 
Comprehensive drawing control allows users to query document properties and relationships as well as view geospatial information. Users can quickly validate digital and paper documents. If they find discrepancies they can take photos and redline documents with standard PDF apps to capture real-time information out in the field.
App features:
Connects to multiple project data sources including Bentley's ProjectWise collaboration system
Directly access secure electronic documents for inspection and decision making in the field
Configurable form-based workflows: define standard templates for inspections, RFIs and more
Review, navigate and mark-up 3D i-models along with associated drawings and documentation of all sorts
Work on models and associated documents without network connectivity and sync when connected