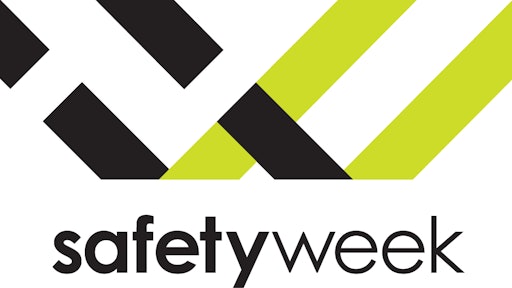 Construction Safety Week
We are stronger and safer together. That is so true. In the construction industry, safety isn't just an individual focus. Yes, we have to make sure we're working safely to keep ourselves safe. But we also have to ensure we're working safely to keep everyone else on the job safe. And we rely on our co-workers and other contractors to work safely to help keep us safe.
While safety is and should be a daily focus on every construction jobsite, Construction Safety Week is a week-long event designed to put an even brighter spotlight and a stronger focus on construction safety. Construction Safety Week 2019 will be May 6-10.
Construction Safety Week is an ideal opportunity to refocus and re-energize your construction company's and employees' commintment to reducing injuries on the jobsite and keeping safety top of mind. It's not just the big things. As humans we can get into routines in our daily work. As these routines become monotonous, or as our jobsite responsibilities remain the same, we get comfortable. Maybe we focus less because the task is routine. Maybe we cut corners or rush to get to a different task. The little thing can lead to safety issues whether they be immediately or later in the job.
Remember, construction safety isn't just to satisfy a government body. Construction safety is a focus to make sure everyone leaves the job every night healthy and can go home to their family and friends who need them. Don't look at safety protocols and requirements as a nuisance on the job (even if it might mean extra work and time). Don't just think of the impact a safety issue may have on that immediate jobsite. Think of all the impacts it will have outside the jobsite. Families affected. Communities affected. Your business family affected.
Celebrating Construction Safety Week
This year Construction Safety Week is focusing on the power of safe choices and their impact on the industry, community and co-workers. Here are some tips from the Construction Safety Week website to get your company, employees, co-workers and community involved.

Construction Safety WeekFirst, if your company is on social media make sure you're spreading the word not only about Construction Safety Week and how your company is recognizing it, but also make sure you're sharing what your company does to ensure safety on the jobsite and for the community every day. Check out the Construction Safety Week social media toolkit for more tips.

Reach out to local media in your community to discuss construction safety and any events or initiatives your company is doing during or well after Construction Safety Week. The Construction Safety Week website even offers a media relations toolkit for contractors.
Be sure to engage your team and employees during safety week as well. Have open discussions about the choices we make — both big and small — and their impacts on and off the jobsite. Discuss preventative steps to take on the jobsite to avoid unsafe situations. Get ideas on how to encourage co-workers to be safe on the job. And encourage your employees and co-workers to spread the power of safe choices and construction safety.
Try to keep these conversations open. Get your employees involved and talking. Let them take part in the company's safety culture rather than just talking and dictating to them. Engage them.
Construction safety starts at the top
Does management personnel at your company make periodic (or frequent) visits to jobsites to check up on safety? You should. Make this a priority during Construction Safety Week. Attend the morning jobsite meetings, conduct safety audits and inspections, discuss safety with the foremen and ask for feedback, ask questions of the crew such as "what are we doing well" and "do you feel safe on the jobsite." Find out what Safety Week means to them.
Safety events
Construction Safety Week is the perfect time to reaffirm the importance of safety on your jobsites. But the week is also designed to bring a more public focus on construction safety. During Construction Safety Week, if your company isn't ready to hold a safety-related public event maybe there is already one schedule in a community close to you your company and employees could participate in. Keep an eye on the Construction Safety Week website to get more information about events being held during the week.
How will you recognize and celebrate Construction Safety Week? We'd love to hear what your company does or is planning to do. We'd love to see it to!
During Construction Safety Week, ForConstructionPros.com will be holding a Show us your Safety challenge. We're asking contractors to share pictures of your company celebrating Construction Safety Week and/or how your company focuses on safety with us on the ForConstructionPros.com Facebook page. Send us those safety pictures! Keep the conversation going on social media using #SafetyWeek.
Did you like this blog? Read more Construction Toolbox blog posts on ForConstructionPros.com.
Also, check us out on Facebook and connect with us via Twitter.