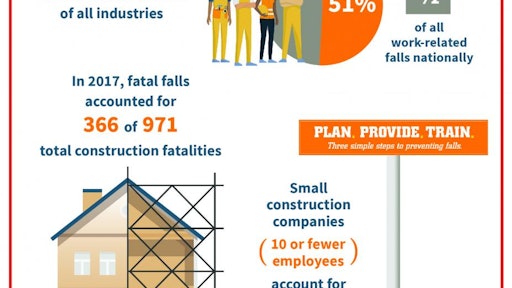 Since 1989, the AFL-CIO has commemorated April 28 as "Workers' Memorial Day" to honor the thousands of workers killed each year on the job and the millions more who suffer occupational injuries and illnesses nationally and across the globe. April 28th is the anniversary of when the Occupational Safety and Health Act of 1970 went into effect, and when the Occupational Safety and Health Administration (OSHA) was formed the following year.
"Since 1971, the Occupational Safety and Health Administration (OSHA) has been working to help make workplaces safer," Acting Assistant Secretary of Labor for Occupational Safety and Health Loren Sweatt commented in a statement in commemoration of Workers' Memorial Day 2019. "OSHA has aided in the creation of a safe culture for American workplaces because every worker in America should return home at the end of each and every workday, safe and unharmed.
"Workplace safety is everyone's business, and must be everyone's priority," the statement continued. "Safety must start on day one and be a continuous process. OSHA will continue to work with its partners across the country – employers, workers, trade associations, labor unions, and safety and health professionals – to ensure that every workplace is safe and healthful."
Workers' Memorial Day presents the opportunity to recommit to this goal of ensuring every worker is provided a safe work environment so that future injuries, illnesses and deaths are prevented. The construction industry has every reason to recommit to this objective. According to OSHA statistics, 5,147 workers died on the job in calendar year 2017. Of the 4,674 fatalities in private industry, 971 or 20.7% were in construction - in other words, the industry accounted for one in five worker deaths. The "Fatal Four" (falls, struck by object, electrocution, and caught-in/between) were responsible for more than half (59.9%) of construction worker deaths in 2017. 
The Bureau of Labor Statistics estimates that eliminating the Fatal Four would save 582 workers' lives in America every year. With falls representing 381 (39.2%) of the 971 construction industries fatalities, The Center for Construction Research and Training (CPWR) makes fall prevention and awareness the cornerstone of its Campaign to Prevent Falls in Construction, highlighted by OSHA's annual National Safety Stand-Down, which will be held the week of May 6th.
"On April 28th we remember those workers who lost their lives. In May, let's honor their memory by standing down to Stop Construction Falls." - The Center for Construction Research and Training
The National Safety Stand-Down has grown to become a rallying cry for construction operations across the U.S. It presents the opportunity to not only raise awareness but to further education in the industry about best practices, safety procedures and the importance of proper training to minimize fall risks.
You can visit www.stopconstructionfalls.com to:
learn more about the campaign;
find out how to plan your own Stand-Down events;
access information on fall prevention;
as well as learn ways your organization can be part of the Campaign throughout the year.
For further information on fall prevention, http://www.osha.gov/stopfalls/.