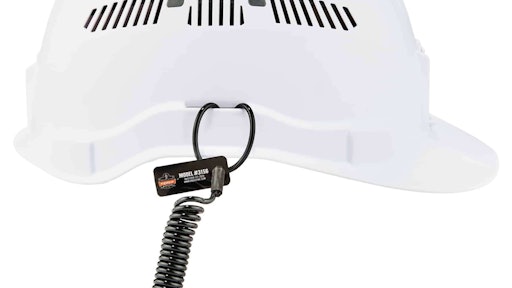 Ergodyne
Continuing the 12 Days of Construction Christmas 2019 gift ideas...
One the eighth day of Construction Christmas my boss gave to me — Ergodyne tool tethering systems
Earlier in 2019 Ergodyne expanded its line of Squids tool tethering systems to prevent dropped objects on the jobsite. The company added five new additions to its line:
3156 Coil Tool Lanyard Single Carabiner - 2lbs / 0.9kg
3166 Coil Tool Lanyard Dual Carabiner - 2lbs / 0.9kg
3194 Hand Tool Tethering Kit
3195 Cell Phone Tool Tethering Kit
3196 Grinder Tool Tethering Kit
Depending on the type of work you do and jobsites your crews are at, one or more of these could make for great gifts and useful jobsite accessories year round.
The Ergodyne tethering products attach to hard hats and other small hand tools with single or dual carabiner options made of lightweight and durable aluminum. The tether's coiled design stretches from 12 to 48 in. to prevent snags and tangle hazards as well as eliminating dropped objects.
"The coiled design makes for a low-profile, compact solution that stays out of the way when the tool's not in use," explained Brent Velenchenko, senior product specialist, Ergodyne. "It's a popular choice for hard hats, but that's hardly the limit… they're also ideal for tools like smaller screwdrivers or hex wrenches."
The tethering kits provide solutions to tether screwdrivers, hex keys, pliers, combination wrenches, mobile devices and power grinders.
Looking for other construction-related gifts? Check out the rest of 2019's 12 Days of Construction Christmas gift ideas:

Day 1 – Makita Cordless Coffee Maker
Day 2 – Crescent Tool Storage Bags
Day 4 – Weather appropriate gear