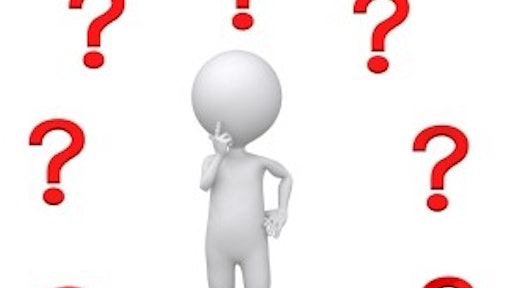 freedigitalphotos.net
In a conference with a "peer group" of similar sized contractors from different areas of the country we spent an incredible amount of time discussing the difficulties of defining what the companies did. These seven strong companies have been around for a number of years, are leaders in their market areas, and have a financial resume that would be the envy of most businesses, no matter the industry.
Then why would this group be unclear about "Who We Are"?
As I reflected on this experience I recognize how may organizations, of all sizes, suffer the same problem and challenges. So, the question I would ask you is: "How would you define your company?" Before you think me, or the question, ridiculous, let me share a few thoughts.
What do you want your company to be?

First, defining who you are begins with you clearly understanding what sort of contractor you want to be. That is, are you going to be intentional, transparent, a contractor of integrity in both "human relations" and performance excellence? The first step toward defining you and your business is to settle just what sort of contractor you want to be.
Second, know the market you want to compete. Where do you best compete? Are you great with the education field? Industrial? Health care sites? Residential?
One thing is for sure, whatever industry "type" you are going to sell and market to, you need to be very clear about the language used for that industry and then tailor your marketing brochure, your website pages, your presentations, even teaching your field leaders how to address customers tailored to the industry.
This second point should not be taken lightly. The needs of a facilities manager for a shopping mall can be similar in nature to the needs of a doctor who owns the physician's clinic that needs pavement maintenance attention, but the manner in which you address the individuals should be tailored to their industry.
Third, you need to clearly introduce yourself to others, especially new prospects with the best identification that best describes you and your company. For example, introducing yourself as, "Hi, I'm Brad Humphrey and I'm a paver," is a bit different than saying, "Hi, I'm Brad Humphrey and I'm in the pavement restoration industry."
The importance of this third point is to not paint yourself into a narrow corner if you are engaged with performing a host of services. Likewise, if you only provide one service, let's say sealcoating, then certainly present yourself as a sealcoating expert with all the confidence possible.
Finally, move your "who are we" to be more value oriented rather than technical delivery service only. For example, to be a dependable and integrity based owner and contractor is often more interesting and respected than just merely pointing out what you physically deliver. It's not that we are hiding anything, but in most markets about the country you may be competing between five to 10 different contractors for a single job.
Defining who you are helps customers find you

Defining who you are is incredibly important in today's market. There is so much information available via the Internet that you must consistently be assessing how others perceive you and your firm. Trust me, become known as that ol' "asphalt guy" or that "paint guy" only and you will have a problem.
What you are shooting for is that your current customers, and those whom you'll be bringing on in the future, recognize you as the premier, best of class contractor who is also in the asphalt or striping business. Business owners of any industry can be recognized for their professionalism, their reputation and their commitment to excellence. Be one of those sorts of contractors!
Don't be all things to all customers

One more "bonus" tip on defining who you are. Many contractors have told me that they feel like they have been forced into becoming all things to all customers over the past few years because getting work was so difficult. "Brad, it's like, I don't even know who we are anymore."
This is a frustration shared by many contractors. However, a few words to the wise might be a good medicinal ointment for your hurts.
Go back to your roots of when you first started in this industry. Write down a few words or phrases that might describe what you were like back then.
Focus on the type of contractor you want to be…again. Do you really enjoy working with church boards, school district facilities managers, homeowners, property managers, etc.? Then renew your focus to address what these folks need to hear and see from your presentation.
Settle on three to five values that you want most to be known for. In other words, even if you didn't win a bid the customer could still wind up saying that you were the most honest, genuine, transparent, etc. contractor they met. Often, these personal "carbon prints" come back around and you may wind up winning some work in the future from that customer.
Get comfortable in your own skin! Like who you are and what you represent and communicate the same to your workers, your suppliers, and your customers. Be consistent.
Finally, view the different pavement maintenance services you provide through the eyes of a contractor who is consistent, excellence based, quality, etc…no matter whether you are sealing, striping, washing, replacing, or paving!
Be clear in defining who you are! Be unique and reload for the upcoming turn in our economy. Be sure of the superior efforts you and your company will provide and be able to clear define and state it when asked!