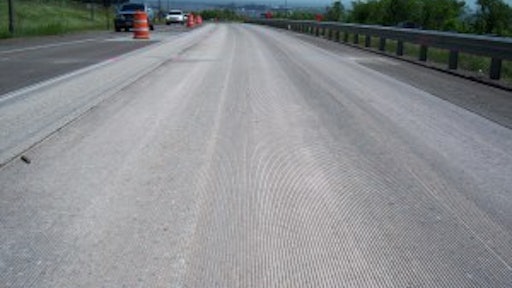 The Challenge:
Grinding and grooving 130,000 square yards of I-35W's road surface to reduce noise levels without losing a surface for tires to grip.
The Players:
Interstate Improvement, Inc., Faribault, Minn.
The Process:
Next Generation Concrete Surface (NGCS) refers to a concrete surface designed to reduce noise levels without tires losing their grip on the road surface. NGCS uses a combination of diamond grinding and grooving on the concrete surface to achieve this.
The I-35W project consisted of grinding and grooving 130,000 square yards of road surface, says Interstate Improvement's National Manager and Owner Steve Knish. Starting in July 2010, Interstate Improvement had a crew of six employees on the job.
Before the main grinding and grooving could get started, the crew had to bump grind to level out bumps in the road. "We profiled the road and cut spots that would require heavy cuts first," Knish says.
Typically, Interstate Improvement stacks 240 diamond blades on its large, specially built diamond grinding equipment. However, this project required the use of 380 Husqvarna diamond grinding head blades spaced closer, Knish says.
"The grinding equipment is the size of a semi-trailer and over 800 horsepower," Knish says. "The operator can sit on or walk next to the grinding units which get hooked to a tractor and hauled down the road." Vacuum systems were attached to the blades to suck up the slurry and deliver it to an accompanying tank, he adds. "The blades take about 10 gallons of water per minute."
"Every 3/4 of an inch one blade stuck down deeper to give a groove texture in the pavement. So it was a combination of grinding and grooving all in one pass," Knish says. The grinding process took 1/4 to 1/2 inch off the road surface, he adds. He estimates the crew averaged about one mile of grinding and grooving per day. Interstate Improvement finished the NGCS grinding and grooving in September 2010.
It didn't take long for the benefits of NGCS to be recognized. Knish says hotel owners who have businesses close to the freeway were amazed with the noise reduction. "Typically, with a 240 blade configuration, the decibel level would be around 101 to 102 when driving over it," Knish says. "With the 380 blade configuration we were able to drop that down to 100 decibels, which is about a 70% noise reduction."
"It's a big accomplishment to bring these roads down to a texture that will last for years with this decibel," he adds.