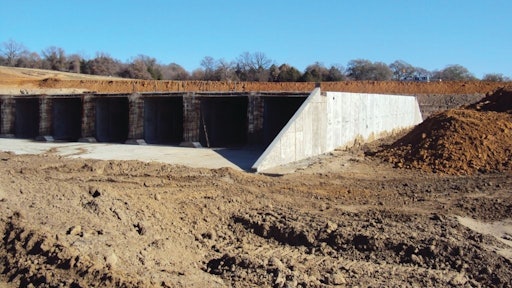 The Challenge:
Construct concrete box culverts to allow groundwater to flow naturally while supporting the heavy dragline excavators frequenting the Turlington Mine area.
The Players:
Hanson Pipe & Precast
Chasco Constructors
The Process:
Expansion of the Turlington Mine, located near Fairfield, Texas, between the Trinity River and Fairfield Lake, used box culverts to allow groundwater to flow naturally, but the structures had to be designed to support the heavy dragline excavators moving around the mine. Hanson Pipe & Precast provided more than 2,560 linear feet of 10- by 9-foot reinforced precast concrete box culverts.
Chasco Constructors selected precast drainage structures for the cost savings as well as their ease of installation. Precast culverts also reduced the need for extra expansion joints used with multi-barrel culverts. 
"Hanson's Houston facility was the best choice for this project because of its convenient distance from the project site as well as its ease of rapid production," said Mark Carpenter of Hanson Pipe & Precast. "Our Houston facility was able to produce approximately 400 reinforced precast concrete boxes in only 37 days."
Chasco built a single-barrel culvert with 256 linear feet of 10- by 9-foot reinforced concrete box and a 21-barrel culvert with a final length of 110 linear feet of 10- by 9-foot reinforced concrete box culvert per barrel. Hanson reinforced the culvert sections to support a 1,470-ton dragline excavator. Concrete with compressive strengths up to 6,750 psi was used, reducing the amount of concrete used on the project by nearly 30,000 cubic yards.
"State Highway requirements allowed only one section of the product to be delivered per truck load, as the weight of each section was 18.29 tons," said Carpenter. "Still, we were able to work together to develop a plan and complete all deliveries well ahead of schedule."
Over the course of three months, Hanson delivered all of the products for the Turlington Mine project.
Both drainage structures began with approximately four feet of ground cover and were built up to as much as 24 feet of cover as the project progressed. The expansion project was completed in 2011 and the mine is currently in operation.