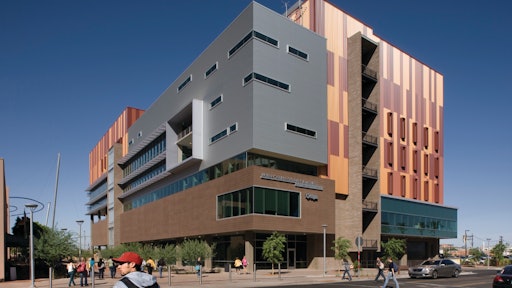 The Challenge:
Create a bold, sustainable facade for the Walter Cronkite School of Journalism while being able to reflect the FCC's Radio Frequency Spectrum Allocation chart.
The Players:
Metal Sales Manufacturing Corporation
Arizona State University
The Process:
The Walter Cronkite School of Journalism at Arizona State University is a 223,000-square-foot, six-story, multi-level facility that is home to offices, retail space, restaurants, 17 media-equipped classrooms, seven computer labs, and seven professional newsrooms. The building also houses one of the country's largest PBS stations, KAET Channel Eight. Its state-of-the-art technology and smartly designed space are unparalleled in journalism education.
Metal Sales' T23 panels feature a 3-inch vertical rib, giving the envelope an eye-catching texture in a tri-color pattern of Colonial Red, Terra Cotta and Copper Penny, modeled from the campus' desert surroundings. The panels are situated to reflect the FCC's Radio Frequency Spectrum Allocation chart, which plots nationwide wireless communication allotment for outlets like cell phones, Wifi, broadcast TV/Radio, etc. – thus appropriately emulating the facility's purpose. This form-meets-function approach is further achieved by a section of the building that is clad in horizontally ribbed Metal Sales T13-A panels in Metallic Silver and supports a row of satellite dishes.
The facility has been awarded the prestigious 2010 International Architecture Award by the Chicago Anthenaeum: Museum of Architecture and Design in conjunction with The European Centre for Architecture Art Design and Urban Studies. It was one of only three buildings/urban planning projects from the United States to earn this venerable distinction.
From the outside, the commanding metal facade harmonizes with its urban Phoenix environment. Metal was chosen for this impressive LEED Silver-Certified building both for its sustainable recycled content and for its capacity to be applied quickly, efficiently and economically.
Metal is a very popular choice for projects of this nature, owing to its long-lasting durability and inherently eco-friendly composition. The Metal Sales panel products hold up well in the extreme Arizona heat. Additionally, with all Metal Sales standard colors ENERGY STAR listed, their highly reflective nature may actually help a facility to lower its cooling costs.